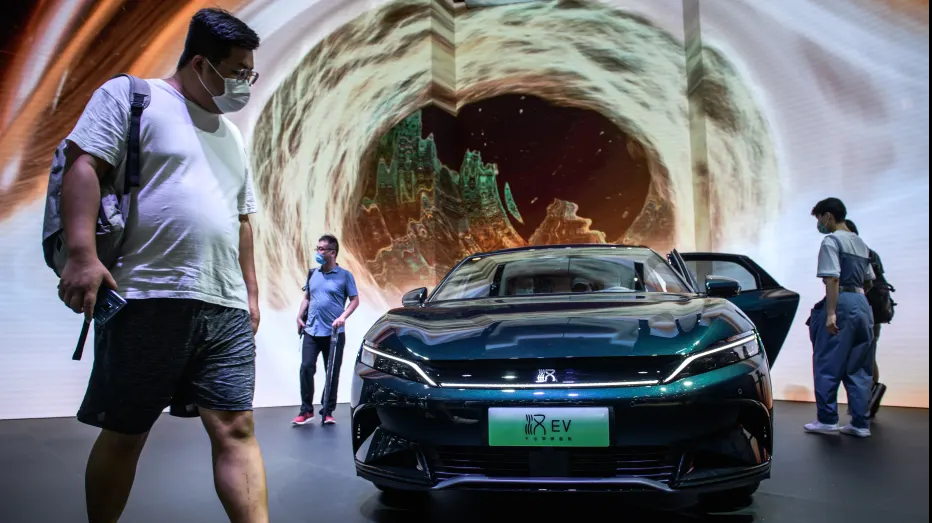 One of BYD's bestselling electric car models, the Han, is on display during an auto show in Shenzhen on June 5, 2022. Anadolu Agency | Anadolu Agency | Getty Images

Chinese electric car maker BYD saw sales more than double in May, solidifying the company's climb into the ranks of the top three automakers in China.
That's according to data by the China Passenger Car Association which was released Friday. China is the world's largest auto market.
Backed by Warren Buffett's Berkshire Hathaway, BYD is also a battery maker that's become a major electric car brand in China — and some of its models are vying with Tesla in popularity.
So far this year, not only has BYD continued to dominate new energy vehicles, which include hybrid and battery-powered cars, but the company also climbed into the ranks of the top three brands in China by passenger car sales.
Despite Covid lockdowns that hit supply chains and Chinese consumer sentiment, BYD sold 113,768 new energy passenger cars last month, the data showed.
Whether in SUVs or smaller passenger cars, BYD accounted for two of the top three bestselling new energy models in China last month, according to association data. Tesla, Nio and Xpeng didn't make the cut.
Those sales put BYD into second place in China's passenger car market overall — just behind FAW-Volkswagen, with 150,009 cars sold, according to the data. FAW-Volkswagen is the German automaker's joint venture in China that sells the Audi and Volkswagen branded vehicles.
BYD's sales marked a 159.5% year-on-year increase, while FAW-Volkswagen's fell 10.6% from May last year. Geely was the third-largest by passenger car sales, at 73,315, down 14.5%.
Last year, BYD ranked 13th by passenger car sales. FAW-Volkswagen, SAIC Volkswagen and SAIC GM took the top three spots.
In the U.S. passenger car market, Tesla did not make the top three spots. Toyota ranks first by sales, followed by Ford and General Motors' Chevrolet brand, according to Sino Auto Insights.
China's passenger car sales fell 11.8% in May from a year ago, while new energy vehicles saw sales climb 91.2%, according to the passenger car association.
For the first five months of the year, FAW-Volkswagen ranked first by sales, followed by BYD and then Changan Automobile, the data showed.
Within new energy vehicles, BYD ranked first, followed by General Motors' joint venture with Wuling Motors and state-owned SAIC Motor. Tesla China ranked third.