The UK on June 14 launched its first CO2 storage licensing round aimed at supplementing existing licenses and becoming a "global leader" in the field, with as many as 100 storage sites eventually needed.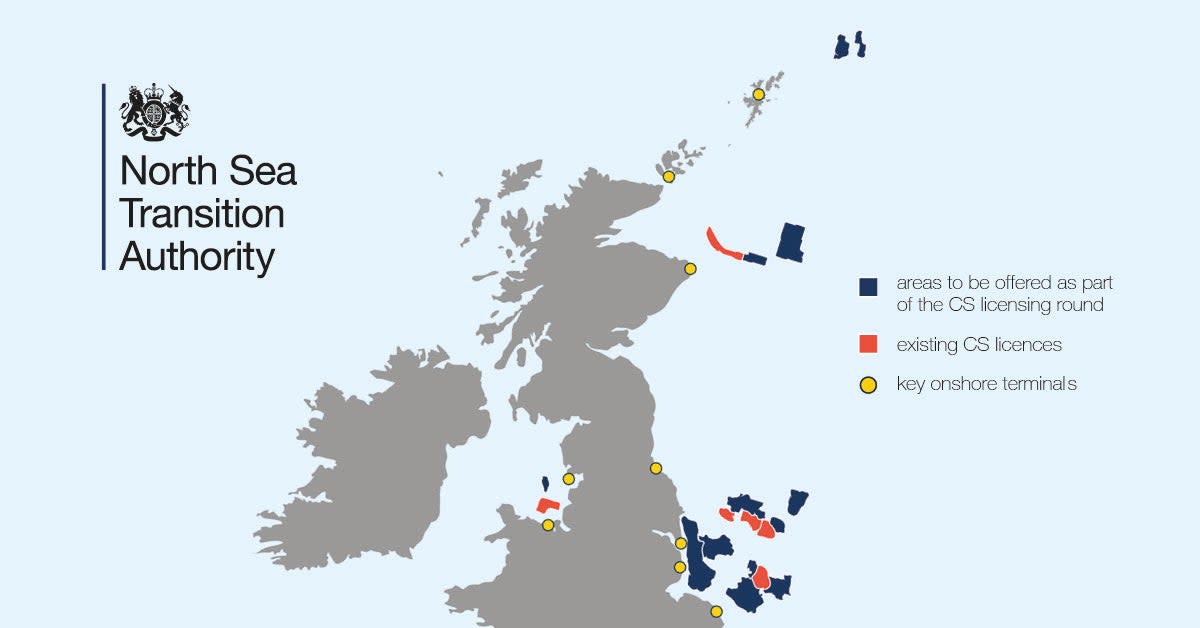 Regulator, the North Sea Transition Authority, offered licenses in 13 areas including saline aquifers and disused oil and gas fields ranging from the Irish Sea to the east coasts of Scotland and England.
It comes as the UK has come under fire for an 'energy profits levy' imposing an additional 25% tax on upstream oil and gas profits from May 2022.
The CO2 storage licenses will supplement six issued prior to the new licensing round, the authority said, adding that together these "could have the ability to make a significant contribution towards the aim of storing 20 million-30 million mt of CO2 by 2030 [annually]."
"This round is envisaged to be the first of many as it is estimated that as many as 100 CO2 stores could be required in order to meet the [UK's] net-zero by 2050 target," it added.
The six existing license areas could be storing up to 40 million mt/yr of CO2 by the mid-2030s, but this would mean them meeting just a fifth of the country's overall storage needs, it added.
It said it anticipated "strong competition" for licenses, with applications due to close on Sept. 13 and licenses to be awarded in 2023.
The UK is trying to balance its need for oil and gas amid declining domestic production alongside the goal of net-zero emissions by 2050. The upstream oil and gas sector argues it has the skills needed to make the country a showcase for dealing with industrial emissions worldwide.
UK oil output, which helps underpin the Dated Brent benchmark, fell by 17% in 2021 to under 900,000 b/d. Dated Brent was assessed by Platts at $127.55/b on June 10, 61% higher on the start of the year.
"Carbon storage is going to be needed across the world. There is growing investor appetite and we are keen to accelerate development of the carbon storage sector so that UK is well-positioned to be a global leader," North Sea Transition Authority CEO Andy Samuel said.
Investment proposition
The government has already given 'Track-1' approval to two carbon capture and storage projects, centered on the Liverpool Bay area and the northeast English coast, with Scotland's 'Acorn' project off the east coast also expected to get the go-ahead.
A number of other projects have also been proposed involving collaboration between onshore emitters and offshore operators, although geologists argue not all proposed storage sites may prove viable for secure trapping of CO2.
There are also potential clashes between proposed offshore wind farms and carbon storage sites due to the need for seismic monitoring of the trapped CO2.
The North Sea Transition Authority said it anticipated first injection of CO2 under the new licenses would come four-six years after awards were made.
"In choosing suitable areas to make available for licensing, the NSTA fully considered issues including co-location with offshore wind — whether there are any known challenges and mitigations around existing or future offshore wind developments — environmental issues, potential overlaps with existing or future petroleum licences, and other activities," it added.
Speaking June 7 at a staff event, Shell CEO Ben van Beurden, whose company has criticized the energy profits levy, reiterated plans to invest GBP20 billion-25 billion ($24 billion-$30 billion) in the UK energy system over the next decade, saying: "When planning for the next decade and beyond in the UK, for example, businesses need to be able to rely on stable fiscal policies that incentivize investment in both North Sea oil and gas and a renewable energy system."