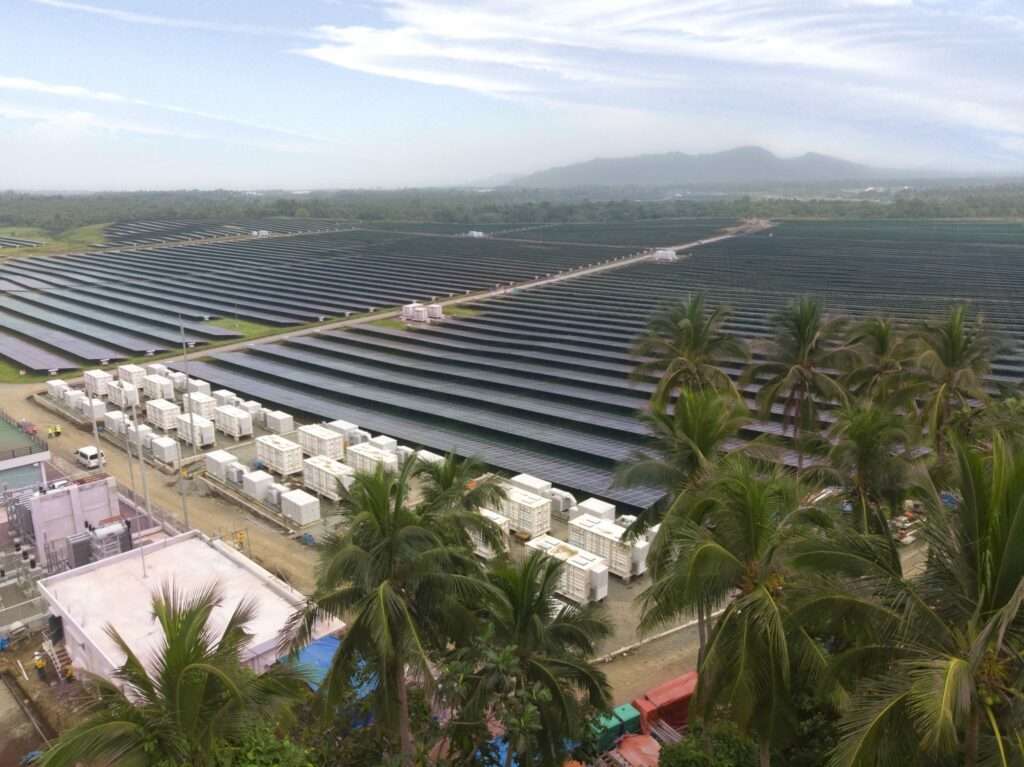 The country's first hybrid solar PV and battery plant (pictured) was commissioned earlier this year. Image: ACEN.

An infrastructure group owned by billionaire Enrique K Razon has proposed construction of a solar-plus-storage project in the Philippines, which would be one of the biggest in the world.
Prime Infrastructure Holdings (Prime Infra) is owned by Razon, chairman and CEO of marine cargo-handling services group International Container Terminal Services Group.
The company said last week that it is developing a project which would combine anything between 2,500MW and 3,500MW of solar PV generation with battery storage of 4,000MWh to 4,500MWh capacity.
Calling it "a model of dependable renewable energy," the project would be built through companies controlled by Prime Infra, together with Solar Philippines.
Prime Infra and Solar Philippines – founded and led by young entrepreneur Leandro Leviste – have formed a joint venture (JV) called Terra Solar to work on developing solar-plus-storage plants in the Southeast Asian country.
In January, Terra Solar proposed to supply 850MW of mid-merit power, which broadly speaking is energy supplied to meet the gap between baseload and peaking power capacity, to Manilla Electric Company (Meralco).
This power would be supplied from the new plant. A location for the solar-plus-storage capacity was not disclosed, and Terra Solar is thought to be considering development of facilities at several sites in the Central Luzon region to meet its 20-year PPA obligation to Meralco.
Terra Solar noted that it beat two competitors' proposals in the tender for the off-take contract, which was approved by the government Department of Energy. Meralco had been mandated by the department to increase its share of renewable generation via its Renewable Portfolio Standard (RPS).
Under the terms of the PPA, the first 600MW of clean power supply needs to be going to the utility by 2026 and the remaining 250MW by 2027. Not only will the energy supplied by emissions-free, but it will also be de-coupled from vulnerabilities to fossil fuel price vulnerability.
"We, at Prime Infra Group, are delighted to move forward with Meralco on this record-breaking project that highlights solar power's important contribution to strengthening the country's energy security — solar, which is normally looked at for peaking, is now being made available by Terra Solar to answer Meralco's mid-merit requirement, thereby addressing both the need for additional capacity and compliance with RPS," Prime Infra CEO Guillaume Lucci said.
"DOE and Meralco should be commended for approving a project that is not only transformational and profound to the renewable energy landscape, but also for managing to do so at a competitive price."
The Philippines has rapidly become one of the most talked-about energy storage markets in Asia, with major power generation companies SMC Global Power and Aboitiz Power among those investing in portfolios of battery storage. The country's first-ever co-located solar and storage plant went online earlier this year.
Meanwhile, the Southeast Asian subcontinent's largest single-site battery storage project to date is a 45MW/136.24MWh facility at a 49MW solar farm currently under construction in Thailand.