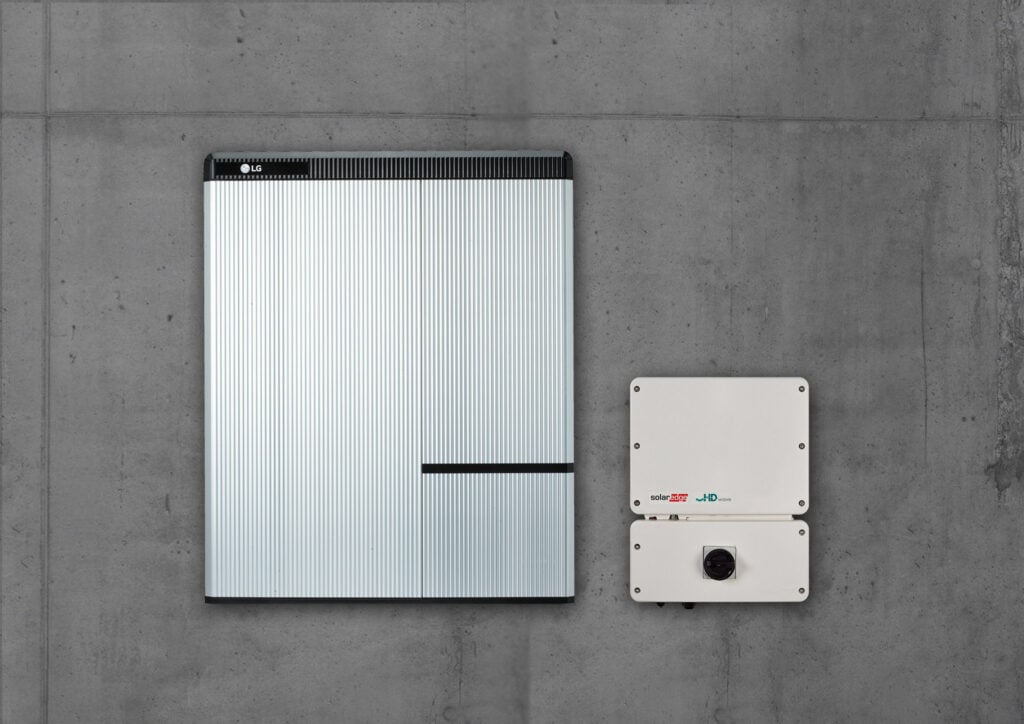 LG's RESU 10H units were previously recalled, but other manufacturer systems are now thought to potentially be affected. Image: LG Energy Solution / SolarEdge.
Buyers of home energy storage systems in Australia have been urged to check whether batteries in their devices come from a batch recalled due to their risk of causing fires.
The recall by manufacturer LG concerns products made during 2017-2018. LG issued the recall in February 2021 and again in May 2021, but some 6,400 of a total 7,256 affected units have not been returned as yet.
The batteries were found to be at risk of overheating and catching fire and the regulatory Australian Competition and Consumer Commission (ACCC) is concerned that some affected customers may not be aware of the situation.
LG said it has been able to remotely limit the State of Charge (SoC) of the systems to 75% of their capacity to prevent damage and has said it will replace batteries free of charge when replacements are available.
The potentially faulty equipment is used in LG Energy Solution's own home battery energy storage systems (BESS) – although the brand was called LG Chem at the time of manufacture and sale – as well as products by other makers SolaX and Opal.
ACCC said nine incidents have been recorded in Australia and five in the US relating to the batch of LG batteries since October 2019. One case of a person being injured has been reported in each country, as well as damage to property in Australia.
Affected batteries still installed should be switched off, regulators recommended, advising that owners should consult the instruction manual accompanying their system or contact the manufacturer or their installer.
In August last year around 10,000 units of LG Chem RESU 10H battery storage systems in the US were recalled, manufactured at around a similar time by LG and imported by its subsidiary LG Energy Solution Michigan.
The US Consumer Product Safety Commission (CPSC) issued that second recall, after the first in December 2020 only identified about 1,800 units as likely being affected. US residential solar and storage installation and leasing company Sunrun which installs the 9.8kWh RESU home batteries for its customers said that about 5% of its entire energy storage installed base was affected by the December recall alone.
The state government of Western Australia issued its own notice about the latest recall last week, noting that roughly 450 of the total 6,400 affected systems across the country are installed there. The government statement noted that some of the potentially faulty batteries were likely installed as replacements as part of systems with other brand names, which in part prompted fears owners may be unaware.
SolaX, which supplied about 25% of the affected batteries, has already carried out its own recall notification – the company supplies SolaX and Opal brand storage systems – while the rest were installed by various companies including major energy retailers Energy Australia and AGL Energy.
Anybody concerned can see ACCC's media release here, including a list of the 10 different models of battery system that could be affected and have been recalled.
Safety remains top of the list of priorities for industry
The recall reminder comes shortly after Energy-Storage.news heard at this month's ees Europe trade event in Germany that safety has become perhaps the single biggest matter of concern for customers of battery storage systems.
Kai-Philipp Kairies, CEO of battery analytics company ACCURE said that while the risks can be reduced, managed or mitigated, it can be extremely damaging to confidence in the industry if they go unchecked and customers are not reassured. Kairies pointed out that Germany – one of the world's leading regions for home battery sales – had experienced five fire incidents at residential systems in on month-long period this year.
LG Energy Solution modules were found to have overheated at the world's biggest battery energy storage system (BESS) project, Moss Landing Energy Storage Facility in California. Although it did not cause a fire, the incident is being investigated and led to the 1,600MWh project being taken offline as a precaution.
Another high profile incident which thankfully caused no injuries but damaged battery equipment was the fire at the 300MW/450MWh Victorian Big Battery in the Australian state of Victoria.
In that case, a Tesla Megapack BESS unit caught fire due to a coolant leak, investigators found, spreading to another 3MWh Megapack and destroying the two units. State safety regulators said they were satisfied lessons had been learned from that incident and the project resumed its testing, coming online a few months ago.