A cement works in Staffordshire is hosting PRISMA, an industry-first application of liquid air energy storage technology.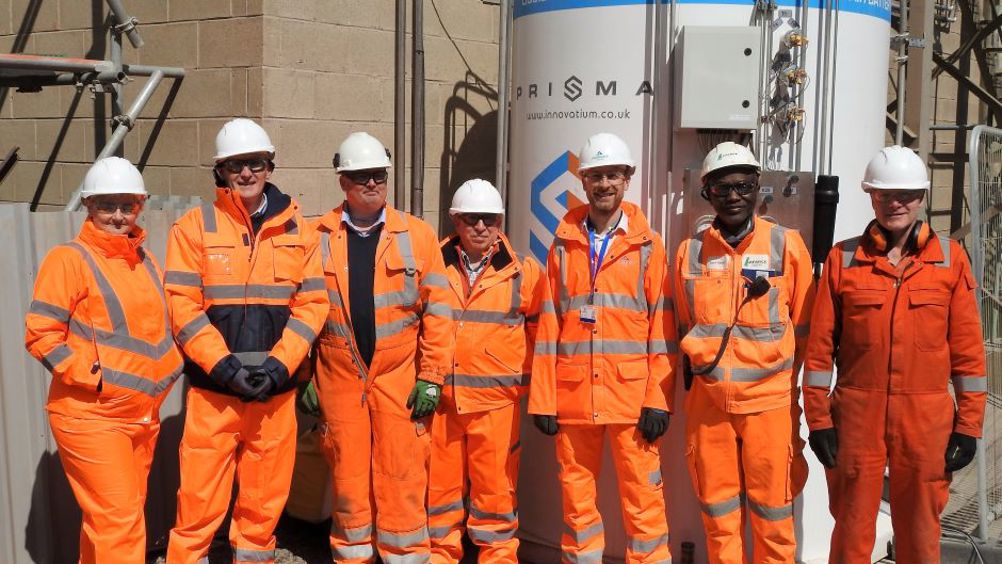 PRISMA (Peak Reduction by Integrated Storage and Management of Air) has been developed by Glasgow-headquartered Innovatium in partnership with Birmingham University and has been described as a potential 'game-changer' alternative to traditional compressed air technologies.
PRISMA stores energy in liquid air form to provide compressed air, allowing inefficient partially loaded, variable-demand compressors to be turned off, which improves the total system efficiency by up to 25 per cent.
UK industry uses over 10TWh of electricity to compress air. PRISMA charges up using cheaper off-peak electricity creating a store of cold liquid air that can then be discharged to provide hours' worth of compressed air,
At Aggregate Industries' Cauldon Cement Works, the PRISMA system brings together a latent energy cold storage tank, filled with a phase change material (PCM) to store thermal energy. Along with a number of off-the-shelf components, this forms a system that will work within Aggregate Industries' existing compressed air network.
Simon Branch, co-founder and CEO of Innovatium, said the PCM in the PRISMA demonstrator is a commonly available solvent that has a freezing point at cryogenic temperatures.
"When freezing, this material stores 80 times more thermal energy - in our case cooling - in the freezing process than a thermal fluid that doesn't utilise the latent heat," he explained via email, adding that the Prisma demonstrator stores 200kg of liquid air and that the unit charges from empty to full in 100 minutes and discharges in 40 minutes.
"The larger commercial system PRISMA 2 currently in design will store two tonnes of liquid air and take three hours to charge and the same time to discharge."
He added that the PCM for PRISMA 2 is the formulation of a novel mixture that increases the energy density by a factor of two.
"That makes a huge difference to the cost/kWh of the system," he said. "It's an example of what we're doing across the full design piece of PRISMA 2, cost engineering."
The installation of PRISMA took two days for the delivery, positioning and connection to the client's system and electrical supply. A further day was spent loading refrigerant followed by three days of pre-cooling.
"The system runs automatically so requires no operator," said Branch. "The PRISMA is controlled off the client's system pressure with these control points set remotely."
The installation of PRISMA at Cauldon aligns with Aggregate's ambition to deliver a reduction in carbon emissions down to 500Kg CO2 net/t cementitious from a 2020 baseline.
Kirstin McCarthy, sustainability director at Aggregate Industries said PRISMA can play a major role in addressing the 'energy trilemma' of managing energy efficiency, energy cost and energy security.
PRISMA technology is a recipient of funding under the government's Industrial Energy Efficiency Accelerator (IEEA) programme, which is managed by the Carbon Trust.
Innovatium recently received £900k investment funding led by Kelvin Capital, alongside co-investment partners Scottish Enterprise, to support the continued development of PRISMA technology.