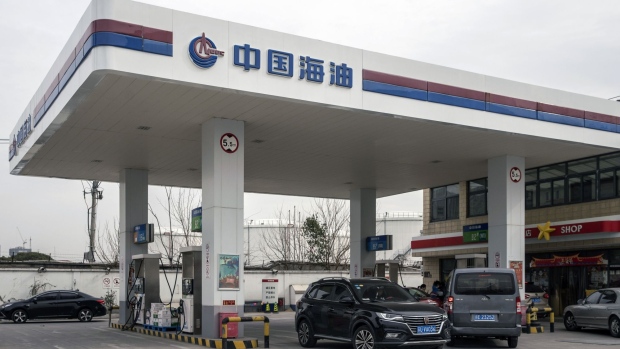 Vehicles refuel at a Cnooc Ltd. gas station in Shanghai, China, on Thursday, Jan. 7, 2021. China's energy markets are tightening as the economy rebounds and freezing weather grips much of the northern hemisphere, a dynamic that's likely to be exacerbated by reduced Saudi oil output. , Bloomberg

Cnooc Ltd. jumped 20% in its first day of trading in Shanghai as mainland investors jumped at the chance for exposure to soaring oil and gas prices.
The company's A-shares opened at 12.96 yuan ($2.02), after pricing at 10.80 yuan.
China's biggest offshore driller is raising 28 billion yuan ($4.3 billion) with the issuance after it was delisted by the New York Stock Exchange following U.S. sanctions. The A-share debut was the largest in China and the fourth largest globally this year, according to data compiled by Bloomberg.