Sky-high wholesale gas prices in Europe reached record levels in the first quarter this year as a result of the conflict between Ukraine and Russia, according to the latest electricity market reports from EnAppSys.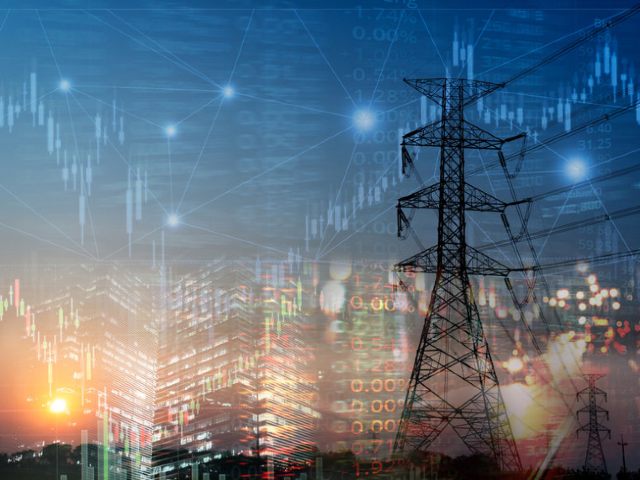 At their peak on March 4, wholesale gas prices reached 246.8€/MWh, quadrupling the previous record and pushing up electricity prices to record highs. Yet despite the extremely high prices of gas, coal and carbon in Q1 this year, there has been high levels of fossil fuel generation in the quarter. This was needed to offset a fall in nuclear generation and lower-than-usual levels of hydro output in Europe.
In response to the increasing gas prices, coal/lignite generation increased to 124.5TWh over the quarter – levels last seen during the 'Beast from the East' period, a sharp cold spell in 2018. Germany at +6.7TWh, saw the largest increase of any individual country in hard coal generation.
Despite the record high gas prices, gas-fired generation rose 1% in comparison to last year's Q1 and was the third biggest generator of fuel behind wind and nuclear.
Aggregate renewable generation (including biomass and waste) continued its dominance over conventional sources by around 42TWh (312.7TWh renewable versus 270.5TWh conventional). A dry spell prompted a 25% fall in levels of hydro generation but this was offset by record levels of wind (150.2TWh) and a 23% increase in solar output.
Germany at total 44.8TWh, maintained the lead in wind generation with an increase of 10.6TWh from the previous first quarter, whereas Sweden at 11TWh replaced France at 10.6TWh as the fourth largest wind generator, with 60% increase in Sweden output compared to the previous Q1.
Nuclear generated more (189.8TWh) than any other single fuel type in the quarter and contributed 24.6% to total output. However, this was a decrease of 7% in comparison to Q4 2021, with France in particular seeing an unprecedented level of unplanned outages in its nuclear fleet.
Jean-Paul Harreman, director of EnAppSys BV, said: "The first quarter of 2022 delivered various new records as electricity markets were driven primarily by the extreme pressure of gas prices. The gas price record seen on March 4 dwarfed the previous record, which was driven mainly by post-Covid global economic growth and supply issues.
"Average day-ahead prices across Europe were quadruple levels seen in the previous first quarter. There were more drastic and frequent price decoupling periods and a considerable increase in the volatility in certain markets, such as France, Belgium and Netherlands.
"Despite the high prices, fossil fuels were needed to fill the supply/demand gap left by lower-than-expected nuclear output, with some units undergoing maintenance and others retiring from service. The available assets in the European nuclear fleet ran at higher loads for longer time periods to relieve the stress of high gas and carbon allowance prices on markets. The unusual levels of generation, which have been ongoing since Q3 of 2021, put a strain on Europe's aging nuclear fleet. This led to unexpected and longer durations of maintenance, mainly in France which saw more than 20GW go offline in February and March."
Nuclear was the biggest contributor to Europe's fuel mix last year, producing 24.6% of the total.
Britain feels the impact of higher prices
GB gas and coal prices, in particular, soared to all-time highs in the first quarter this year.
Whilst supply levels have not varied, the risk of interruption against a background of increased demand coming out of the pandemic led to high levels of 'risk' being priced into the market.
Although GB does not import as much coal and gas from Russia as some other countries, the interconnected nature of European markets means that the GB system feels the effects of the uncertainty on global prices.
Rising fuel prices in Q1 2022 fed into wholesale and system prices, which meant that the historic high prices of the previous quarter were maintained despite an increase in renewable generation.
Average day-ahead, within-day and system prices were all more than three times what they were in Q1 2021 and more than six times the levels seen in Q1 2020.
The average EPEX day-ahead average price in the quarter was £200.80/MWh and the corresponding Nordpool price was £199.63/MWh – more than triple the average prices in the same auctions in Q1 2021. Within-day prices averages also more than tripled, from £59.62/MWh in Q1 2021 to £194.30/MWh this quarter.
The dramatic increase in underlying fuel prices also fed into system prices – with average system prices (£197.64/MWh) in Q1 2022 the highest on record.
The gas-fired CCGT fleet remained the largest contributor to the fuel mix of with a total generation of 24.6TWh in the quarter, despite high gas prices following the Russian military activity in Ukraine. This was a substantial decrease of 13% from the 28.4TWh seen in Q1 2021 and the lowest output since Q2 2020, when demand was significantly reduced by the first outbreak of COVID-19 in GB.
Wind output totalled 23.3TWh in the quarter, the highest amount in any quarter on record. Consequently, the wind fleet comprised 68.2% of all renewable generation, another all-time high.
Nuclear generation was again the third highest contributor to total generation (11.74TWh), despite Hunterston Generator 8 shutting down and removing 500MW of nuclear capacity from the system at the beginning of January.
Meanwhile, less coal generation was seen this quarter than in any other Q1 on record, despite coal units achieving lower breakeven costs than CCGT units for extended periods.