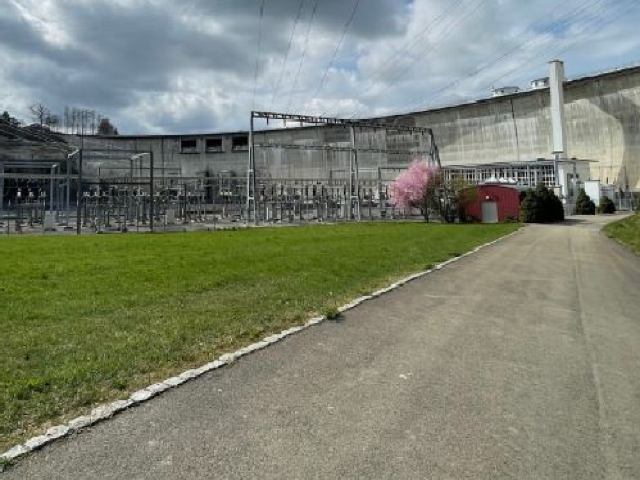 Schiffenen Dam hydropower unit will be used to produce hydrogen (photo courtesy H-TEC SYSTEMS)
H-TEC SYSTEMS and Groupe E will deploy a hydrogen project in western Switzerland, using two H-TEC SYSTEMS ME450/1400 PEM electrolyzers to produce green hydrogen from hydropower at the Schiffenen Dam.
The production plant at Schiffenen Dam is on the Sarine River in the canton of Fribourg. The hydro project was completed in 1963 and is owned by Groupe E.
Groupe E is a Swiss energy company that supplies 400,000 residents in the cantons of Friborg, Neuchâtel, Vaud and Bern, as well as numerous business customers, with electricity.
The group operates seven dams and hydroelectric power plants on the Saane and one of its tributaries, the Jogne. The company has stakes in large hydro and thermal power plants as well as in various systems for generating electricity from new renewable energies (small hydropower, wind power, biomass and photovoltaics) throughout Switzerland.
The electricity mix of Groupe E consists of 61.5% hydropower and the rest nuclear power, natural gas, solar energy, biomass, waste, subsidized electricity and gray electricity (as of 2019).
Starting in 2023, about 300 tons of green hydrogen is expected to be produced annually, and used primarily to decarbonize freight transport.
The two PEM electrolyzers are on tap to be supplied along with more than 2 MW of green energy from a turbine at the dam. The location of the production plant near the A12 and A1 freeways is ideal for delivering the hydrogen to nearby refuelling stations, according to a press release. With the help of tanker trucks, the hydrogen would be transported by road to the stations.
Groupe E is launching a pilot project with the PEM electrolyzers. Together with Groupe E, H-TEC SYSTEMS is entering the Swiss market for the first time.
H-TEC SYSTEMS is part of the MAN Energy Solutions Group.