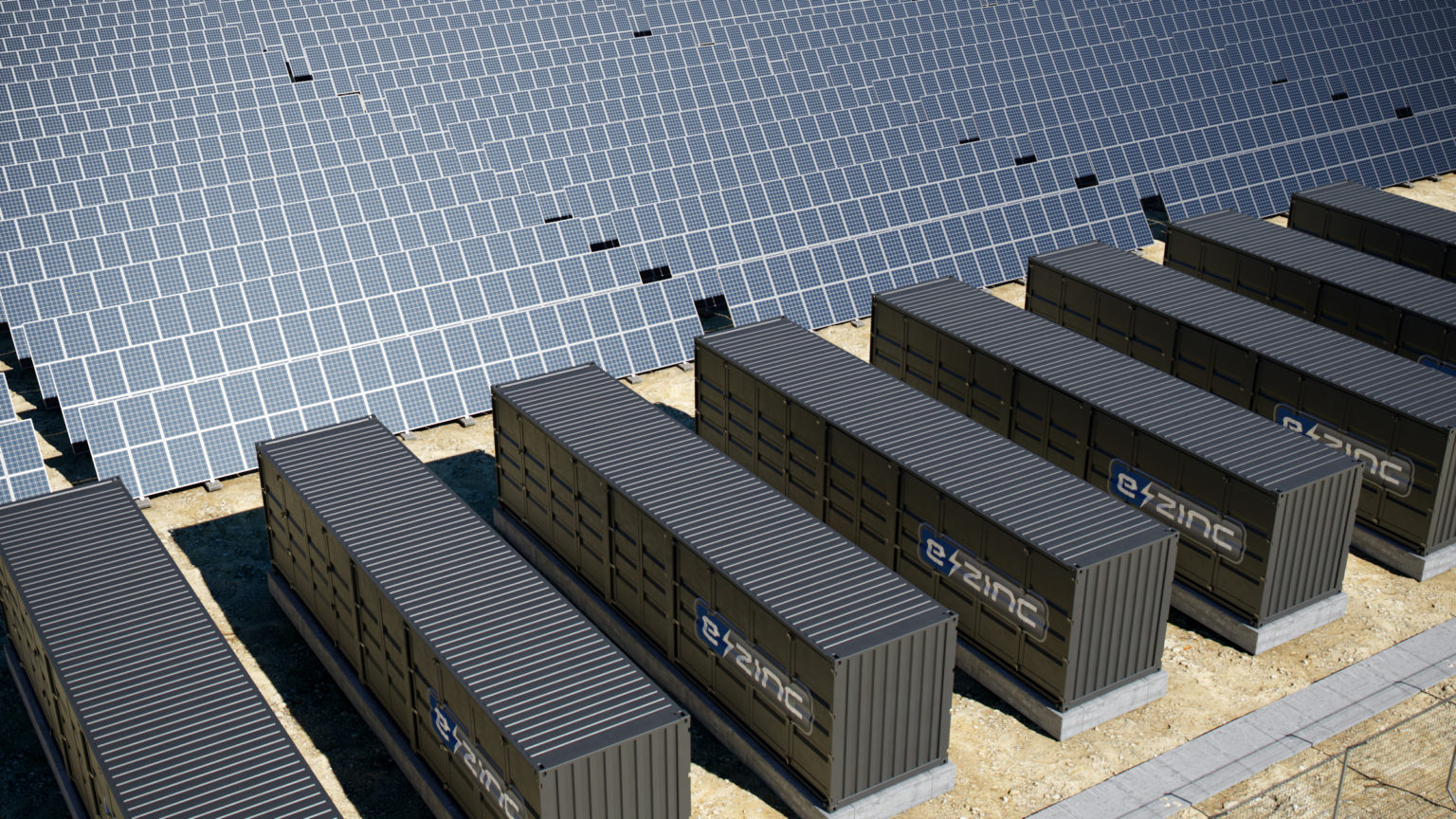 A rendering of e-Zinc's zinc-air battery technology next to a solar array. e-Zinc will test its technology through a partnership with the California Energy Commission. (Courtesy: e-Zinc)

Canadian zinc-air battery maker e-Zinc said it raised $25 million in Series A financing to support the production of its first commercial long-duration energy storage system.
e-Zinc said it aims to address the challenges with other battery types (namely lithium-ion batteries) that have become the preferred option for grid-scale energy storage. In the near term, the company said it wants to displace diesel generators as low-emission alternatives for half-day to five-day backup power use cases.
e-Zinc's leadership team left to right – Pieter de Koning, VP of Engineering, James Larsen, CEO, Tyler Schon, PhD, VP of Technology Development. (Courtesy: e-Zinc)

The company said it will use the Series A funds to support in-the-field testing with the California Energy Commission, which awarded the company a $1.3 million grant.
The first e-Zinc project will be deployed at Houweling's, a commercial greenhouse in Camarillo, California. The 125-acre site is already host to a 1 MW solar array.
The initial installation, expected in 2023, will likely be 40 kilowatts with 24 to 48 hours of duration. As designed, it will store solar generation to discharge during peak hours and to power irrigation at night. If blackouts or power disruptions occur, it can shift to backup power mode.
While the cost of lithium-ion batteries has fallen by about 97% over the past three decades, concerns remain about the environmental impact of mining, availability of critical minerals, and safety. Most lithium-ion batteries are dispatchable at nameplate capacity for four-hour stretches, while zinc-air batteries could soon provide multi-day support for variable renewable energy sources like wind and solar.
Electricity is made in zinc-air batteries when oxygen in the atmosphere chemically reacts with zinc. Those two materials — zinc and air — are available in nature and present a low risk for explosion.
Since raising a $3.4 million seed round in 2020, e-Zinc CEO James Larsen said the company has demonstrated how the system pairs to solar and grid generation, developed the balance of system, and implemented a software and controls layer.