The generation of renewable electricity in Germany grew by nearly 25% to about 74.5 billion kWh in the first quarter of 2022 driven mainly by favourable weather conditions.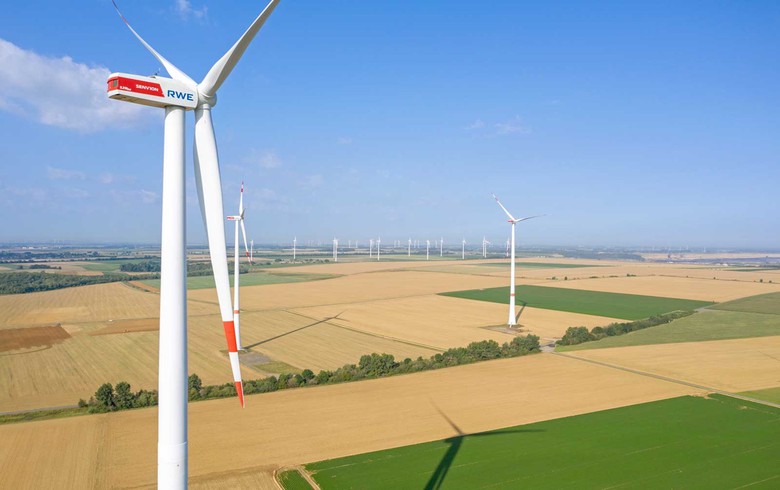 Wind turbines in Germany. Image by: RWE AG.
Onshore wind parks generated 39.4 billion kWh of clean electricity and 7.5 billion kWh came from offshore turbines in the first three months of the year, according to preliminary calculations by the German Association of Energy and Water Industries (BDEW) and the Solar and Hydrogen Research Centre Baden-Wuerttemberg (ZSW). Stormy days in February, in particular, led to a new monthly record for wind power as turbines produced 20.6 billion kWh of electricity.

Solar plants across the country supplied 9.6 billion kWh of power and biomass added 13.2 billion kWh in the first quarter while hydropower plants generated 4.6 billion kWh.

As a result of the increase in green electricity production, renewables covered 54% of the electricity consumption in Germany in the first two months of the year.

The high share of renewables, however, should not be used to hide the fact that the expansion of green capacity in Germany is too slow, said BDEW's head Kerstin Andreae.

After the launch of the war in Ukraine, it is urgently needed to take measures to support rapid progress in the expansion of renewables, according to Andreae. She welcomed the decision of the German government to designate 2% of the country's territory for wind parks but called for accelerated planning and approval processes and warned that the implementation of wind projects often falls through during the approval process.