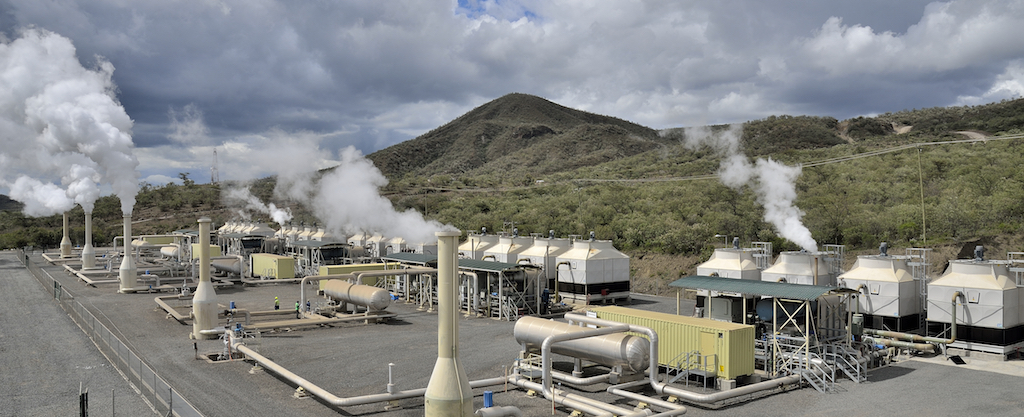 Wellhead geothermal power plants, Olkaria (source: GEG)
The Energy and Petroleum Regulatory Authority (EPRA) report projects significant increase in Geothermal Energy Development in Kenya, according to a recent blog post by Kenya's Geothermal Development Company (GDC).
The post refers to a recently released report on the energy statistics and market updates by Kenya's Energy and Petroleum Regulatory Authority last month. The Energy and Petroleum Statistics report 2021, provides key data on renewable energy and other energy sub-sectors.
According to the report, the total electricity generation decreased slightly from 11,620.7GWh in 2019 to 11611.34GWh in the year 2020. During the period under review, 92.3 per cent of electricity was generated from renewable sources. Electricity generation from geothermal, hydro and wind power sources accounted for 43.6, 36.5 and 11.5 per cent of electricity, respectively in 2020. Generation of electricity from thermal sources, the only non-renewable source accounted for 6.5 per cent of total electricity generation in 2020.
Geothermal remains to be a major source of generated electricity in the country recording up to 48.4% of total generated electricity in 2020/ 2021. Wind power registered a substantial decline from 1,562.7 GWh in 2019 to 1331.36 GWh in 2020 while Solar generation also declined from 92.3 GWh in 2019 to 88.42 GWh in 2020. The report further stated that Hydropower registered an increment of 33% from 3,205.34 GWh in 2019 to 4240.42 GWh in 2020. Thermal generation declined by 42.6% from 1313.28 GWh in 2019 to 754.42 GWh in 2020.
Kenya is currently utilizing renewable energy sources with over 85% of electricity generation from renewable sources. Additionally, 89.9% of electricity consumed was generated within the country.
Geothermal leads energy mix with 48.4%, hydro 30%, wind 16%, thermal 10%, imports 2%, and solar 1%. EPRA attributes this to fair regulation and conducive energy policies which boosted private investments in electricity generation.
"The country has successfully adopted more renewable energy than many in the region, with less than 20% of its electricity mix derived from fossil fuels. This is in line with the Government's priority in the use of green energy sources to promote environmental sustainability as well as to adapt to and mitigate against the effects of climate change" read part of the report.
As of June last year, geothermal had the largest installed capacity of 863.1 MW (863.128 MW), hydro 838.1 MW, thermal 720.3 MW, wind 435.5 MW, solar 90.3 MW, and biomass 2%. Geothermal energy utilizes the heat coming from the earth's sub-surface. Deep wells are dug to access steam and hot water from underground reservoirs. The steam is then used to drive turbines connected to electricity generators.
The report further states that geothermal provides nearly 50% of total power generation. Due to the short-run marginal costs, geothermal power plants generally run as baseload. Currently, geothermal power is harnessed in GDC's Menengai Geothermal Project, GDC's Baringo-Silali geothermal project, Olkaria and Eburru fields.
The Menengai Geothermal Project, in Nakuru County, has an estimated potential of 1,600 MW. The project will be developed in five (5) phases with the long-term goal of developing 465 MW of geothermal steam equivalent.
The Baringo-Silali Geothermal Project has an estimated geothermal potential of 3,000MW. The Company plans to develop 300MW in the first phase of the project, that is, Paka – 100MW, Korosi – 100MW, Silali – 100MW.
GDC has been undertaking geothermal exploration drilling at the Paka and Korosi Prospects in the Baringo-Silali Geothermal Project. So far, three (3) exploration wells in the Paka prospect have been drilled successfully. Two wells have been drilled in Korosi, while drilling of the third well is currently underway. Paka Well 3 (PW-03) was successfully discharged on March 16, 2021, following the completion of the heating monitoring period of the well. Drilling of the fourth well in Paka (PW-04) is ongoing.
The Cabinet Secretary, Ministry of Energy, Amb. (Dr). Monica Juma, CBS who was the chief guest called on key Energy parastatals to emulate EPRA in sharing information crucial in ensuring the growth of Kenya.