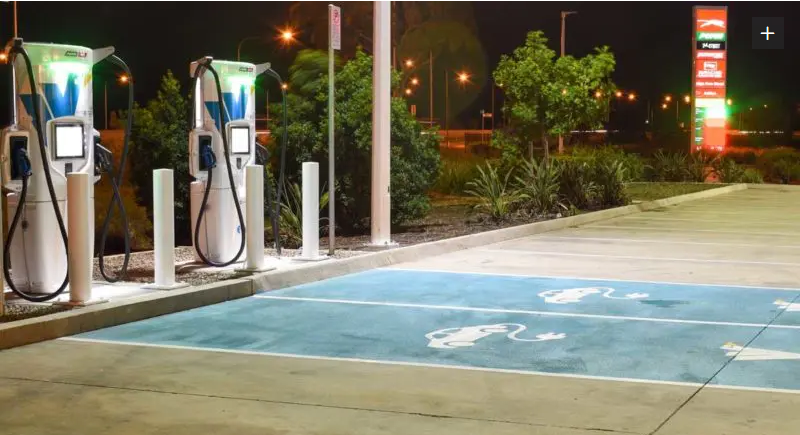 THE NEW CLUDEN EV CHARGING SITE OUTSIDE TOWNSVILLE, QUEENSLAND. SUPPLIED
Queensland has joined three other state governments in offering a subsidy, or rebate, of $3,000 for an electric vehicle, but has put the cap at a lower level of $58,000 that excludes the country's best selling EVs, the Tesla Model 3.

The price cap for Queensland is about $10,000 below the levels set in NSW, Victoria and South Australia, but premier Annastacia Palaszczuk says it will still apply to six or seven models currently available in the state and will be available for 15,000 new vehicles.

She cited both soaring petrol prices, which have reached $2.20 a litre or more, and the need to slash emissions, as key reasons for the move.

"The skyrocketing price of petrol is putting enormous strain on household budgets," Palaszczuk said.

"I know there are plenty of Queenslanders out there who want to make the switch to electric. We all want to see reduced emissions and a cleaner environment. That's why we are going to do what we can to make the cost of electric vehicles that little bit cheaper.We're making electric vehicles more affordable and accessible for more Queenslanders"

"Global warming increases the frequency and severity of extreme weather as we have seen all too clearly in the past two weeks. This announcement is a key part of our Zero Emission Vehicle Strategy: the goal is to reduce our emissions and reduce the impact of climate change."

The subsidy will come into effect from July 1, and comes as the state will also provide a further 10 million to build more charging stations in conjunction with local govenment and the private sector.

The cap of $58,000 in Queensland means that the basic Tesla Model 3 SR+ will not qualify for the rebate, unlike in other states.

On Tuesday, Tesla announced a price rise of $3,000 to the Model 3 SR+ to $63,900, effectively offsetting the benefits of the rebates in other states because of the rising costs of chips, logistics, and batteries.

The Queensland government said that cars that will qualify for the rebate include the Nissan Leaf, the MG ZS EV, the Hyundai Ioniq, the Hyundai Kona, the new Atto 3 model being released by BYD, and the Renault Kangoo.

Transport minister Mark Bailey said the rebates, and the new EV strategy released by the government on Wednesday, will encourage people to buy electric vehicles, and will give the automotive industry confidence to "set up shop" in Queensland.

"This strategy signals a fundamental shift in our transport system," he said.