Race Bank Offshore Wind Farm off the coast of Norfolk, U.K. (Courtesy: Nicholas Doherty/Unsplash)
Researchers across the U.S. will study hurricane risks facing planned offshore wind installations along the Atlantic coast.

The research project, Ensuring Long-term Availability and Bankability of Offshore Wind Through Hurricane Risk Assessment and Mitigation, will receive $650,000 in combined funding from New Jersey, Massachusetts, and Maryland.

Northeastern University will lead the project, with anticipated support from Johns Hopkins University, University of Massachusetts Amherst, University of Colorado Boulder, Clemson University, and Tufts University.

"We expect this proposal to remove a significant amount of the uncertainty associated with conjectures about hurricane risk with a targeted, industry-driven series of investigations that span from basic atmospheric science to highly applied OSW engineering," said Jerome Hajjar, project lead, and professor of Civil and Environmental Engineering at Northeastern.

Join us for the next Renewable +Series webcasts on April 13th as we break down the future of floating offshore wind in the U.S. and lessons learned from the 2021 winter freeze in Texas.

The National Offshore Wind Research & Development Consortium said that "relatively little technical research" has examined hurricane risks for offshore wind assets along the Atlantic coast.

A decade ago, long before any commercial-scale offshore wind projects had been approved, a study supported by Carnegie Mellon University and the Department of Energy determined that the Gulf of Mexico and Atlantic coast are the riskiest places to install offshore wind turbines in the U.S.

Researchers determined that Galveston County, Texas is the riskiest location for an offshore wind installation, followed by Dare County, North Carolina.

A potential blind spot for the study, however, was that researchers based projections on historic wind speeds, acknowledging that "historic conditions may be poor predictors if climate change were to affect hurricane intensity or frequency." It is now a commonly held belief in climate science that the planet's warming is contributing to more frequent and harsher storms.

The resiliency of offshore wind installations will be an important factor in meeting the Biden administration's goal of 30 GW by 2030. The states financially supporting the study have set offshore wind targets of their own.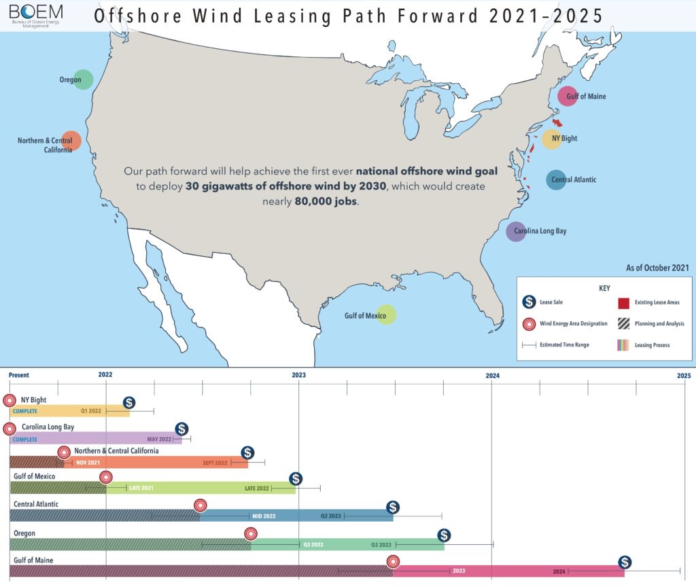 The recently completed New York Bight offshore wind lease auction fetched a record $4.37 billion from companies looking to develop six areas off the coasts of New York and New Jersey. Massachusetts will soon have the first commercial-scale offshore wind project, Vineyard Wind 1, off its coast. And Maryland, along with its Central Atlantic neighbors, could see a lease auction for offshore wind development rights as soon as 2023, according to the Bureau of Ocean Energy Management.