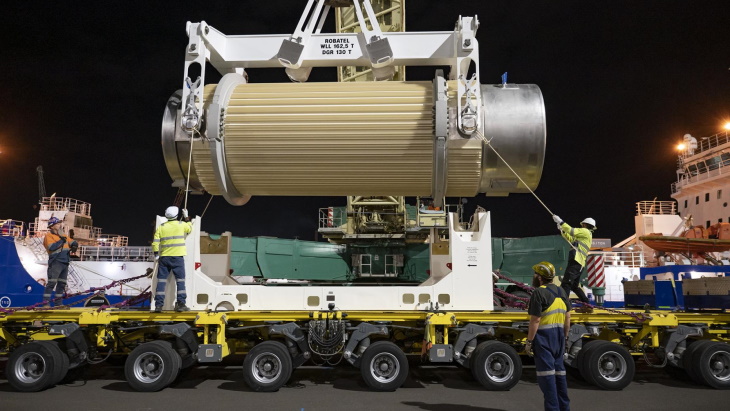 The cask of waste is unloaded from the Pacific Grebe for road transport to Lucas Heights (Image: ANSTO)
A single TN-81 transport and storage cask containing intermediate-level waste in the form of vitrified residues was transported to an Australian port by the specialist vessel Pacific Grebe. It was then transported overland to the Australian Nuclear Science and Technology's (ANSTO's) Lucas Heights facility near Sydney, arriving on 13 March.

The waste resulted from the reprocessing and recycling of used nuclear fuel, which had previously been used for medicine and scientific research in Australia.

The flask contained waste that is radiologically equivalent to the 114 used fuel rods from ANSTO's Hifar reactor received by the UK in 1996.

The waste will be stored at the Lucas Heights facility until the planned national radioactive waste management facility near Kimba, South Australia, is operational.

Nuclear Transport Solutions, part of the UK's Nuclear Decommissioning Authority (NDA), said it performed the shipment in full compliance with all UK, Australian and international regulations.

The Vitrified Residue Returns Programme - a partnership between Sellafield Limited and Nuclear Transport Solutions - is a key component of the NDA's strategy to repatriate waste from the UK, fulfil overseas contracts and deliver UK government policy.

"The multidisciplinary team at Sellafield Ltd has worked successfully with customers, partners and our colleagues in Nuclear Transport Solutions to ensure the safe arrival of the flask to its destination in Australia," said David Marsden, Sellafield Ltd's vitrified residue returns programme manager. "This marks another significant milestone in the safe repatriation of waste to overseas customers."

"This is another significant milestone in delivering UK government strategy to repatriate waste from the UK to overseas customers," said NTS CEO Seth Kybird. "Once again, NTS has demonstrated its ability to complete complex transports safely and securely."

This is the second time radioactive waste has been repatriated to Australia. The first was in December 2015 from France and the next is not anticipated until the mid-2030s.