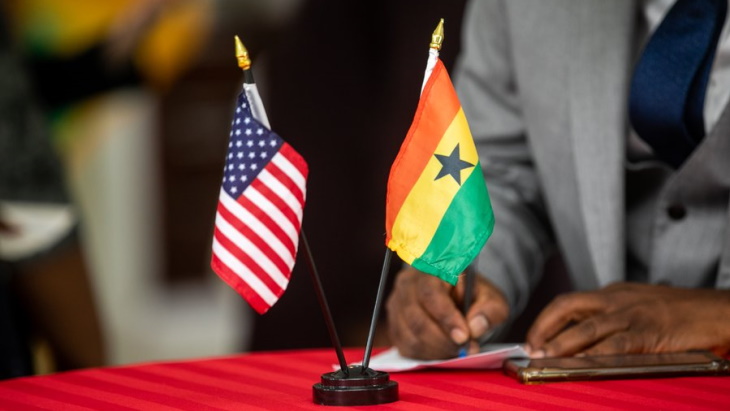 (Image: @USEmbassyGhana)
Launched by the Department of State in April 2021, FIRST provides capacity-building support to partner countries as they develop their nuclear energy programmes to support clean energy goals under the highest international standards for nuclear safety, security, and non-proliferation. To date, the department has announced USD7.3 million to support FIRST projects worldwide.

The programme will support Ghana's adoption of SMR technology, including support for stakeholder engagement, advanced technical collaboration, and project evaluation and planning. Japan, which has partnered the USA on the FIRST programme, will also build on its existing partnership with Ghana to advance Ghana's civil nuclear power aspirations, the Department of State said.

"Clean, reliable, and safe nuclear energy can provide significant benefits to Ghana and the Ghanaian people - including clean energy, agricultural improvements, clean water, advanced medical treatments, and more. The climate crisis is serious and urgent. Next generation nuclear energy, like what we're working on today, must be part of the solution," said US Ambassador to Ghana Stephanie Sullivan at the 25 February launch event.

Ghana's decision to include nuclear power in its energy mix has led the country to establish Nuclear Power Ghana Limited as an Owner Operator and the project developer, Minister of Energy Matthew Opoku Prempeh said. The FIRST programme will further develop Nuclear Power Ghana's competencies towards delivering on its mission to build and safely operate Ghana's first nuclear power plant, he added.

Ghana has already adopted the International Atomic Energy Agency's Milestones Approach, a phased method to help countries that are considering or planning their first nuclear power plant. Yaw Osafo Marfo, senior advisor to Ghana's president, said the FIRST partnership would be complementary to the IAEA programme.

Initial training for Ghanaian partners under the FIRST programme will take place throughout 2022, and will focus on stakeholder engagement, licensing and regulatory development, financing, workforce development, and nuclear security, safety and non-proliferation.

Stephen Yamoah, executive director of Nuclear Power Ghana, has recently been reported as saying that selection of a preferred site for Ghana's first nuclear power plant will be completed by the end of this year.