When the wind slows down and the sun stops shining, hydropower emerges as a steady, reliable renewable energy giant. A report from the Clean Energy Council (CEC) highlights how investment in one of the oldest and most established renewable technologies can support Australia's energy transition, and what needs to be done to make the most of this critical resource.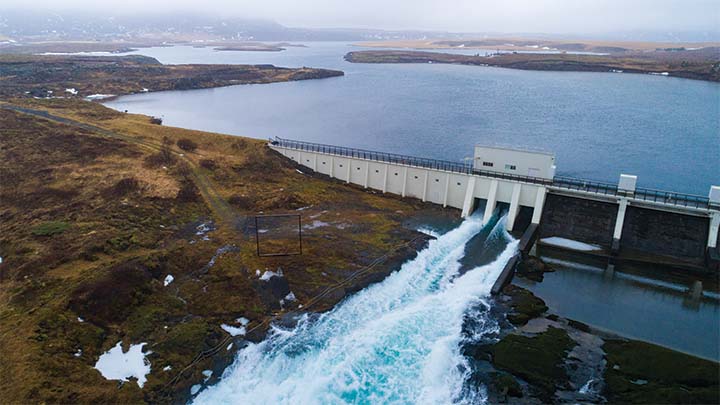 While intermittent renewable energy sources such as solar photovoltaics (PV) have seen a rapid increase over the last decade, one of Australia's biggest clean energy contributors has remained relatively overlooked.
Hydropower has been in use in Australia since 1914, and made up 23 per cent of the country's renewable energy supply in 2020. A recent report from the CEC, Hydropower: The backbone of a reliable energy system, highlights how the energy source could play a key role in decarbonisation and in replacing coal-fired power stations.
CEC Chief Executive, Kane Thornton, said that the report's findings help clarify the challenges of optimising this resource. "Hydropower has done a lot of heavy lifting over the last 100 years," Mr Thornton said.
"With the right support, it can continue to do so for 100 more years, creating thousands of jobs today, while underpinning the reliability of the grid for generations to come."
Australia's current hydropower capacity
Despite being the driest inhabited continent on earth, hydropower has a long history of use in Australia, with the bulk of hydropower plants developed between 1951 and 1996.
Over the last 50 years, the implementation of hydropower in place of burning fossil fuels has avoided the release of over 100 billion tonnes of carbon dioxide, according to International Hydropower Association estimates.
With 8.5GW of collective generated power across the country, hydropower represented an approximate total of 6.4 per cent of total energy demand in 2020. As a flexible power source, hydropower can act as a stabilising 'backbone' for the renewable energy system, and can play a critical role in meeting peak demand by adapting its energy production to meet varying changes in energy demand.
In particular, hydropower can mitigate the higher variation of other renewable energy resources, particularly during low-output periods for wind and solar generation. As these intermittent renewable energy sources decrease in price and increase in availability, the stabilising role of hydropower is expected to become even more critical.
Decarbonising with hydropower
Although hydropower is already helping to meet these network reliability challenges, the report reveals Australia hasn't seen the full extent of its potential. The Australian Energy Market Operator (AEMO) estimates that up to 50GW of renewable energy generation will be needed to take the place of coal-fired stations in the National Electricity Market (NEM) by 2040.
Of this, new dispatchable energy sources, such as hydropower and big battery storage systems, will need to make up 19GW of energy by 2040 to accommodate for the elevated levels of renewable integration. Mr Thornton said that considering AEMO's forecasts, hydropower has a huge role to play as one of the most mature forms of renewable energy generation.
"Its large energy storage capability and the essential system services it provides leave it ideally placed to thrive in a 21st-century energy system to complement the rollout of wind, solar and battery storage, and drive the reliable and secure decarbonisation of the Australian energy sector," Mr Thornton said.
With record uptake of solar PV and wind generation, the energy market is predicted to be closer to AEMO's Integrated System Plan (ISP) most ambitious renewables integration scenario than the previously forecasted moderate scenario.
"Central to maintaining reliability and keeping the lights on, hydropower assets not only provide a low-cost and dependable supply of energy; they also deliver a wide range of crucial system services and flexibility that complement the wind and solar generation that is increasingly dominating the Australian energy mix," Mr Thornton said.
"This proven technology will work alongside batteries and a stronger network to build the resilience of our energy system in the face of ageing coal-fired generators and increasing extreme weather events."
Investment needed to make waves
As a capital-intensive resource, hydropower has not seen the same level of deployment as other renewable energy storage projects such as batteries. Due to the high cost and complexity of hydropower, very few projects have been developed without financial support from the government — the launch of the Snowy 2.0 hydroelectric project in New Sout Wales, for example, required significant government investment.
Clear market price signals within the NEM would help to make hydropower's value even more clear. This would highlight hydropower's
services, such as medium and long-term energy storage, the ability to support wind and solar, and provision of fault current and voltage control.
The Energy Security Board (ESB) and the Australian Energy Market Commission (AEMC) are developing new markets to value these services, such as system strength. Defining other value measurements will be critical to recognising the worth of hydropower as a reliable and stabilising renewable energy source.

There are currently over 120 operating hydroelectric power stations in Australia, large and small, predominantly located in the south east.
Key hydropower projects
Kidston Pumped Storage Hydro Project
As the third-largest electricity storage device in the country, the 250MW Kidston Pumped Storage Hydro Project has demonstrated the huge potential for hydropower initiatives.
It is located in Far-North Queensland, and is the only Australian hydropower facility developed by the private sector. Construction of the project is expected to be completed in 2024, when generated power will be sold directly to the NEM to bolster the region's energy security.
Snowy 2.0
The biggest new hydropower project is the 2,000MW/350,000MWh Snowy 2.0 Hydroelectric project in New South Wales, which links two dams through 27km of tunnels to provide power. When energy demand is low, water will be pumped to the upper dam, and when demand is high the water will be released back to the lower dam to generate energy, providing a flexible power system. Snowy 2.0 is expected to begin generating power in early 2025.
Battery of the Nation
Hydro Tasmania's Battery of the Nation project involves a pumped hydro project at Lake Cethana, with the potential redevelopment of the Tarraleah hydropower scheme on the horizon.
The initiative has received $5 million from the Australian Renewable Energy Agency (ARENA), and is seeking community consultation before plans are finalised.
The future of hydropower
With more than 120 operating hydroelectric power stations in Australia, as well as three major Pumped Hydro Energy Storage (PHES) facilities, hydropower will continue to play an integral role in the renewable energy mix.
Both ARENA and the Federal Government's Low Emissions Technology Statement have identified the significance of large-scale energy storage solutions. Dozens of new hydropower projects are currently in development across the country, with continued investments in large-scale projects highlighting the transformational power of this fundamental renewable energy resource.