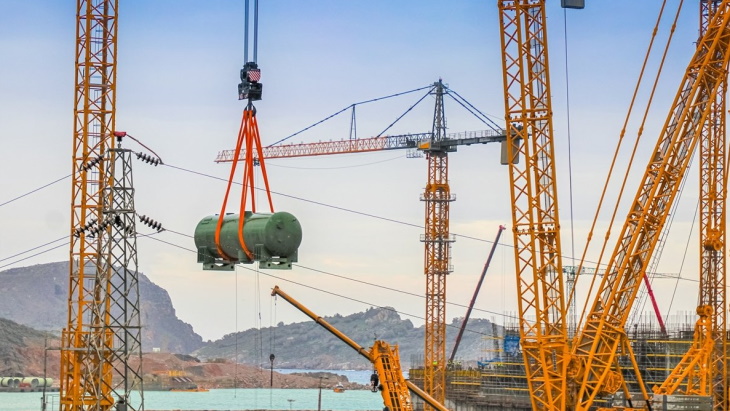 A steam generator is moved into place using a crane at the Akkuyu site (Image: Akkuyu Nükleer)
In addition to the reactor pressure vessel - which was delivered to the construction site in November 2020 and installed in June last year - the four main circulation pumps, the four hydraulic accumulators of the emergency core cooling system (ECCS) and the four steam generators have now been installed within the reactor building, the Akkuyu Nükleer AS project company announced.

The equipment, it noted, was installed using a heavy caterpillar crane by using the 'open top' technology, where the equipment is delivered through the open top of the cylindrical part of the reactor building.
The reactor coolant pipeline (RCP) units have also been delivered to the installation area. These were pre-assembled at a specially equipped shop at the Akkuyu construction site.
"Having installed the steam generators, we have come one step closer to the milestone of the first power unit construction which is welding of the reactor coolant pipeline, in which the primary coolant shall circulate," said Sergey Butckikh, first deputy CEO and director of NPP construction at Akkuyu Nükleer.
"The builders are expected to equip the so-called clean installation area. Cleanliness of the premises, air quality and humidity are ensured during welding of the RCP, since the strictest requirements are presented to the quality of RCP welded joints."
The preparation stage for welding of the RCP connecting the main equipment of reactor coolant system begins with the completion of steam generators installation, Akkuyu Nükleer said. The RCP welding stage is planned to soon start and is expected to take about three months to complete.
Rosatom is building four VVER-1200 reactors at Akkuyu, under a so-called BOO (build-own-operate) model. Construction of the first unit began in 2018, with start up planned for 2023. The 4800 MWe plant is expected to meet about 10% of Turkey's electricity needs.