Green Hydrogen International (GHI) today shared plans for the development of a green hydrogen production and storage hub in South Texas that will be backed by 60 GW of behind-the-metre solar and wind power.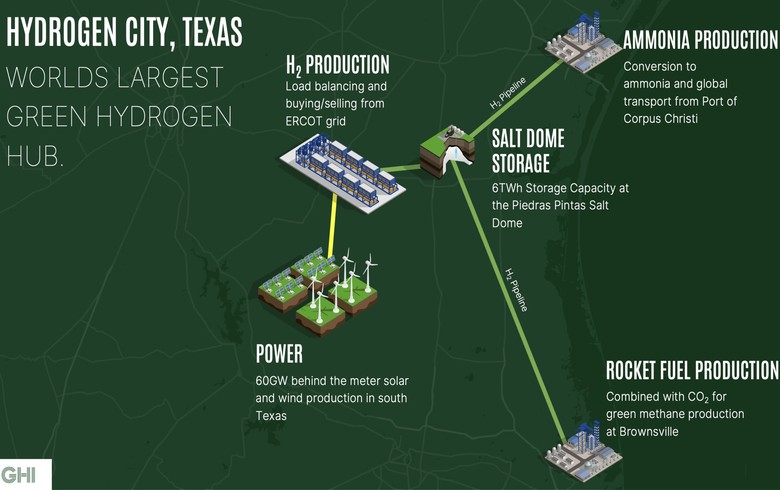 The Hydrogen City scheme. Source: Green Hydrogen International Corp.

The project, to be known as Hydrogen City, is centred around a hydrogen storage facility in the Piedras Pintas Salt Dome located in Duval County and will rely on pipelines to deliver its output to Corpus Christi and Brownsville. There, the hydrogen will be turned into green ammonia, sustainable aviation fuel (SAF) and other products, including green methane rocket fuel. The developer noted in particular that it is exploring the opportunity to export green ammonia to Asia.
Alternatively, the output could be delivered by a pipeline directly to hydrogen power plants and other users around the state, the announcement says.
Hydrogen City will be developed in phases, starting with 2 GW of production and two storage caverns at the Piedras Pintas salt dome planned for 2026. GHI pointed at the availability of salt storage for the project as a critical element and added that more than 50 caverns can be established at the Piedras Pintas salt dome to provide up to 6 TWh of energy storage.
As mentioned above, the project will be powered by 60 GW of behind-the-metre solar and wind power but more renewables could be drawn from the ERCOT grid during periods of low prices. GHI will get assistance on the project from Aussie renewables developer Energy Estate.
Once fully realised, the complex will be able to produce more than 2.5 billion kilograms of green hydrogen per year.