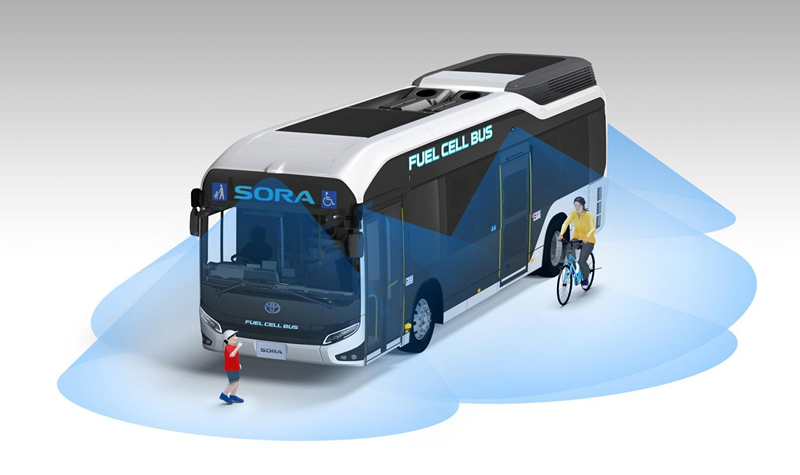 Toyota Sora Fuel Cell Bus Rendering.
TOYOTA
More and more large vehicles are slowly becoming electrified, everything from semi trucks and garbage trucks to school buses and consumer pickup trucks. The trend took another step forward with Toyota's announcement today that it will start production of zero-emission buses with its partners Isuzu and Hino.

The three companies are working on two related electric bus projects. The first is a battery-powered, flat-floor route bus that Isuzu and Hino will start building in fiscal year 2024. Hino is a subsidiary of Toyota Motor Corporation. Despite being rivals in some areas, Isuzu and Hino have been collaborating on buses since 2002 and created a joint venture called J-Bus Ltd. to produce these vehicles. In March 2021, Toyota, Isuzu and Hino announced they would all work together on electric and fuel cell trucks, as well as autonomous driving technology and electronic platforms for these larger zero-emission vehicles.


Toyota Fuel Cell Truck Rendering TOYOTA
Toyota defines a route bus as a "bus with a flat, single-level floor that extends from the front of the bus to almost the rear" (i.e., a city passenger bus) and this new electric route bus will take advantage of the kind of open layout made possible by electric powertrains. "The flat-floor area of the bus's interior can be greatly expanded compared to conventional non-step buses, significantly improving travel safety," Toyota said in a statement.
The other bus fits in more logically with Toyota's enthusiasm for hydrogen power, which can be seen in passenger cars like the Mirai and Toyota's H2 semi truck project, Project Portal, which it highlighted back in 2019. The second bus is due to arrive later than the battery-powered model, which it will be based on. And, actually, the H2 route bus is more of an idea than a specific plan at this point. Toyota said that it and Hino and Isuzu "have agreed to begin studying the planning and development of next-generation fuel cell electric vehicle (FCEV) route bus based on the BEV flat-floor route bus to be produced from FY2024."