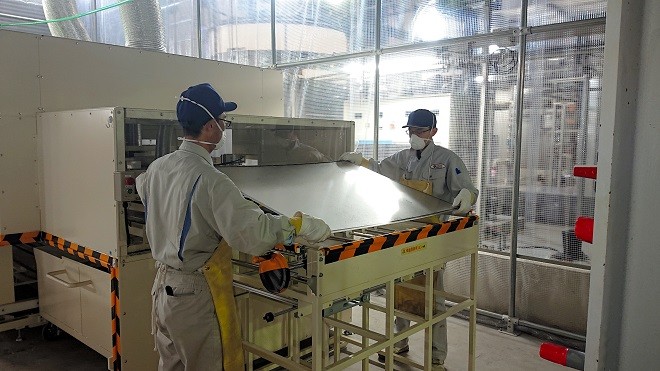 Workers with Solar Frontier KK use mechanical equipment to remove glass from a solar panel. Silver, copper and other ingredients are to be extracted from the remainder for sale. (Provided by Solar Frontier KK)

When their day in the sun ends, solar panels, once a promising form of renewable energy, could leak toxic substances if left unattended in heaps.
Many of the solar panels used for green power generation are expected to reach the end of their lives in the 2030s and be discarded.
That has jump-started a rush for businesses to develop systems for disposing of these used solar panels. A number of businesses have set out on new projects to address the looming challenge.
NEW LIFE THROUGH RECYCLING
NPC Inc., a Tokyo-based manufacturer of solar panels, has developed mechanical equipment that allows more than 90 percent of the materials contained in solar panels to be recycled. The appliance was put on sale in 2019.
The device uses a blade heated to 300 degrees or so to remove glass from the surface of a solar panel. It disassembles the remainder into materials of different types, such as resin and copper.
Each unit of the equipment has the capacity to process one solar panel per minute and up to 140,000 or so panels a year. NPC has so far sold five units of the appliance in Japan despite the high unit price of 100 million yen ($867,000).
The company also received an order from France last year.
"Demand is already there in Europe, where photovoltaic power generation spread earlier than in Japan," NPC President Masafumi Ito said.
Ito added his company has delivered 10 units of the equipment, with those of a simpler and cheaper model included in the count.
UP TO 280,000 TONS OF WASTE IN 2030s
The rapid spread of photovoltaic power generation in Japan was prompted by the introduction of a feed-in tariff system in 2012, which requires power utilities to buy electricity generated with renewable energy sources at fixed prices set by the government.
Solar panels are supposed to have service lives of 20 to 30 years. The government's New Energy and Industrial Technology Development Organization (NEDO) has estimated the volume of solar panels to fall into disuse in a year will peak sometime around 2036 at 170,000 to 280,000 tons.
There is the option of reusing them, but few buyers would want panels of older models that come with poorer power generation efficiency. The panels could, however, be used in the manufacture of other machinery if disassembly allows materials of high value, such as aluminum and silver, to be extracted from them.
Niimi Solar Co., based in Niimi, Okayama Prefecture, is developing solar panel disposal equipment that uses water vapor.
It will employ steam heated to 600 degrees or so to vaporize plastic and allow more than 90 percent of the materials, including glass and copper, to be recovered. Company officials said they hope to commercialize the apparatus sometime around 2023.
"If more businesses were to join the market, the resulting competition would prompt technological innovation and cost reduction," said Niimi Solar President Hideyuki Sakumoto.
Leading businesses are also venturing into the field.
Solar Frontier KK, a Tokyo-based subsidiary of major oil distributor Idemitsu Kosan Co., has developed a technology that allows noble metals and other materials to be extracted from used solar panels by using nitric acid.
Company officials said they hope to kick-start a business as early as fiscal 2024 for recycling the substances extracted. They said the company will begin by processing 30,000 or so panels a year and expand the scale of the business to match the growing demand.
'NO DISPOSAL FUNDS, NO LICENSE'
Similar technological approaches, however, are not likely to be a cure-all on their own.
Solar panels contain toxic substances, including lead, but the way they are designed to block water permeation means it takes time and effort to disassemble them.
Used panels above and beyond the processing capabilities will be assigned to landfills. It is believed, however, that industrial waste disposal sites would reach their capacity limits sometime around 2035 if there is no reduction in waste.
The costs of disposal, which should be borne by the power producers, also present a problem.
The Agency for Natural Resources and Energy has said some 80 percent of all power generators had no savings of funds for disposal as of 2019. That raises concerns that used solar panels could end up abandoned in the years to come.
The Japanese government is rushing to address the issue.
It had the renewable energy special measures law amended in 2020 to make it obligatory for power producers to set aside reserve funds for the disposal of equipment in all solar farm projects of 10 kilowatts or more. That provision will come into force in July this year.
How effective that measure will be, however, remains an open question because some power generators are dividing up their project areas so the divided areas will ostensibly be small enough to be exempt from the regulation.
"It would become difficult to build new solar farms unless a mechanism for disposal were to be established," said Katsushi Takenaka, head of the photovoltaic recycling preparation office with Solar Frontier. "There is also a need to work out an institutional system for encouraging the reuse of materials, such as by certifying recycled resources."