Carbon capture and storage (CCS) is the process in which carbon dioxide that is produced during the generation of power and its industrial processes is prevented from being directly emitted into the atmosphere. Instead, it is collected and stored underground or recycled for other purposes. It is a strong mitigation tool that is being used to fight climate change. Carbon dioxide is responsible for global warming and leads to climate change. Technologies have been put in place to reduce and avoid emissions into the environment.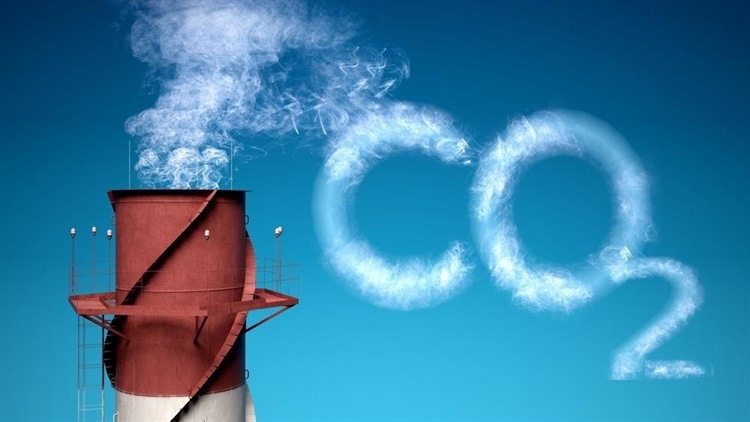 Image Credit: Billion Photos/Shutterstock.com
Types Of Carbon Capture

Pre-Combustion Capture
This process is done to separate carbon dioxide gas from gasification and reform processes in which syngas is formed that consist mostly of hydrogen, carbon dioxide, and carbon monoxide.
An integrated gasification combined cycle (IGCC) power plant that uses carbon-based fuel-like coal is reacted with oxygen and steam under high pressure to form the syngas which is then used to power a gas turbine generator to produce electricity. The recovered heat is used to drive the turbine-generator to produce electricity. Carbon is captured from the syngas before it is combusted in the gas turbine.
The syngas is shifted in a water gas shift (WGS) reaction to produce more hydrogen and convert more carbon monoxide gas into carbon dioxide. Pre-combustion capture is more efficient than post-combustion capture because of the higher concentration of carbon dioxide after the water gas shift reaction and also because of the high pressure of the syngas.
During the separation of carbon dioxide and hydrogen gas in pre-combustion, efforts are focused on advanced solvents, solid and membrane systems. Specific emphasis also on the high temperature, novel materials, nanomaterials, and process intensification. Novel concepts such as hybrid technology, which combines the attributes from multiple and different technologies, are currently being investigated.
Post Carbon Capture
This is the process in which carbon dioxide from flue gas is captured after the combustion of a carbon-based fuel such as natural gas or coal. Over 60% of electricity produced in the United States comes from fossil fuel-powered plants, which call for the need for post-combustion capture technologies to help reduce gas emissions.
The biggest challenge being faced in post-carbon capture is separating the low concentration of dioxide gas from the high volumes of nitrogen gas also found in the flue gas. Other types of carbon capture and storage include solvent-based capture, which involves physical or chemical absorption of the carbon dioxide into a liquid carrier. Another type of carbon capture is sorbent-based capture, which involves the physical or chemical adsorption of the carbon dioxide with the help of a solid sorbent.
Achieving Net-Zero Carbon Emissions

Carbon capture and storage is an essential tool that is being used to mitigate climate change. The CSS project pipeline has grown by 48% between 2020 and 2021. The ambitious project is a reflection of the 2015 Paris Agreement. As of April 2021, over 44 countries and the European Union had disclosed net-zero-emission targets.
The climate ambition alliance, which brings together countries, regions, cities, and investors to achieve net-zero emissions by the year 2050 has more than 4000 participants and an excess of 2300 companies and over 700 cities. Leaders from these organizations have pledged to achieve net-zero emissions by the year 2050.
Setting these targets is an important first step. Achieving zero emissions will require multiple specific steps in all interested parties over the next few decades. Many governments have now begun to recognize how critical CSS is to achieving zero emissions by 2050.
CCS Facilities Around The Globe

There are currently 135 CCS facilities in the global network, however, two are currently suspended. In just the first months of 2021, a total of 71 new projects were added predominantly in the US. This has led to an annual growth rate in the capacity of 30% since 2017, although the results are not fully realized until CCS move to operating stages.
The scale of new facilities is becoming larger, such as Shell's Rotterdam hydrogen project. The facility has been designed in the megaton range. However, there are also smaller facilities as they are more practical for the location. The US's summit carbon solutions plant captures just 90,000 tons a year.
The Challenge To Fund Carbon Capture Projects

Despite the development and growth in the CSS project pipeline that has been reported in the last 12 months, there is a need for more CSS technologies if the net-zero target is to be met by 2050. An increase in the capacity of 40 Mtpa to well over 5600 Mtpa by 2050 will be required along with an investment capital ranging between 655 billion and 1280 billion.
Infrastructure development must be driven to support a net-zero economy and should be the priority of each government. A carbon capture network demands geological storage for carbon and identifying and characterizing an area that will be ideal will often require hundreds of thousands of dollars.
These funds are at risk because, unlike mineral exploration, exploring pore space does not just justify the risk of losing tens to hundreds of dollars. Originally, CSS projects were intended to be integrated with a capture plant already having a dedicated downstream system. This was in favor of large-scale projects.
Recently, a trend has been developed where projects are sharing carbon dioxide transport such as pipelines, port facilities, shipping, and storage wells. The Porthos network in Rotterdam will have a shared pipeline that will transport carbon dioxide in a liquid state for new blue hydrogen project air-liquid, ExxonMobil, Air products.
Rapid Deployment Of Removing Carbon Technology

To achieve net-zero emissions by 2050, it is highly likely new technologies to remove carbon altogether will have to be deployed. It is also important to understand that different regions require different technology and therefore CCS facilities will have to adapt to the needs of the user.
Blue hydrogen projects refer to the process in which fossil fuels are used to produce clean hydrogen. There are many new blue hydrogen projects underway. In the UK, blue hydrogen projects will provide a clean source of hydrogen fuel and help decarbonize.
Waste-to-energy (WtE) plants can greatly help achieve zero-emission energy, although this depends on the source or origin of the wastes. Many countries have now realized the potential that exists in CSS in addition to WtE. A few plants such as Amager Resource Center in Copenhagen and many more are being developed by SUEZ in the UK and other areas in Europe.
The Importance Of Strategic Partnerships

As CCS projects are dynamic and complex, there has been the emergence of strategic partnerships between a range of different organizations. Some of the industries include technology, oil and gas, shipping, and financial services. Exxonmobil's low-carbon solutions were established in 2021 by ExxonMobil. It aims to commercialize technologies associated with CCS and further announced the plans for 20 new CCS projects.
By creating a large network development of projects is expected to be streamlined and financially supported to overcome setbacks that occur.