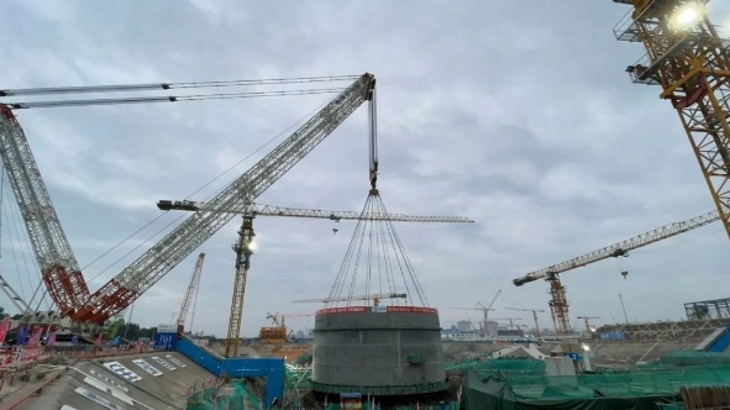 The lower section of the containment building is put in place (Image: CNNC)
Construction of the multi-purpose 125 MWe pressurised water reactor (PWR) - also referred to as the Linglong One - officially started on 13 July 2021 following final approval for its construction being given by China's National Development and Reform Commission in early June.
The containment vessel bottom head - which will support the steel containment shell - was assembled on-site from 50 pre-fabricated steel plates. The assembled component was hoisted into place by crane onto the plant's concrete foundation plate on 24 October.
China National Nuclear Corporation (CNNC) announced on Monday that the lower section of the containment shell - some 15 metres in height and weighing about 450 tonnes - was lowered into place upon the vessel bottom head on 26 February, 46 days ahead of schedule.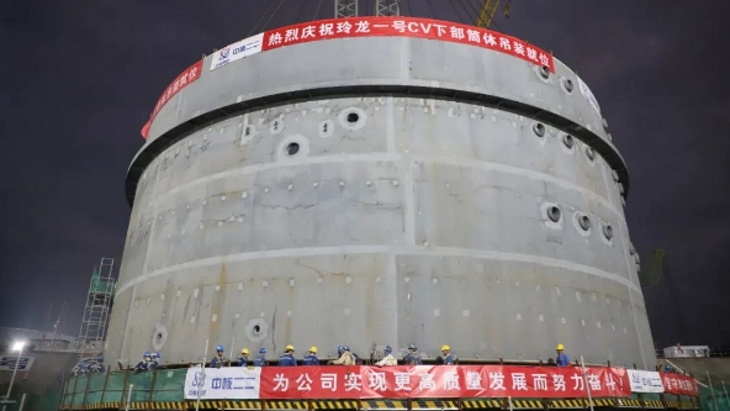 The lower section of the containment (Image: CNNC)
The upper section and the top head of the containment will now be installed.
Once completed, the Changjiang ACP100 reactor will be capable of producing 1 billion kilowatt-hours of electricity annually, enough to meet the needs of 526,000 households, CNNC said. The reactor is designed for electricity production, heating, steam production or seawater desalination.
CNNC announced in July 2019 the launch of a project to construct an ACP100 reactor at Changjiang. The site is already home to two operating CNP600 PWRs, while the construction of the first of two Hualong One units began in March last year. Both those units are due to enter commercial operation by the end of 2026.
Under development since 2010, the ACP100 integrated PWR's preliminary design was completed in 2014. The major components of its primary coolant circuit are installed within the reactor pressure vessel. In 2016, the design became the first SMR to pass a safety review by the International Atomic Energy Agency. The preliminary safety analysis report for a single unit Changjiang demonstration plant was approved in April 2020.
The project at Changjiang involves a joint venture of three main companies: CNNC subsidiary China National Nuclear Power as owner and operator; the Nuclear Power Institute of China as the reactor designer; and China Nuclear Power Engineering Group being responsible for plant construction. Construction time is expected to be 58 months. For the demonstration plant, the reactor vessel is being supplied by Shanghai Boiler Works Limited, the steam generators by a CNNC subsidiary and other reactor internals by Dongfang Electric Corporation.