The EU made a target to be climate-neutral by 2050, including goals to cut 2030 net greenhouse gas emissions by a minimum of 55 percent compared to 1990. There are natural carbon capture solutions out there such as in forests and peatlands, but these are prone to the release of carbon through disturbances such as fires and deforestation. Carbon capture and storage technologies such as carbon sequestration can securely store carbon and will need to be advanced at an industry-wide, global scale. We share key CCS developments in Europe.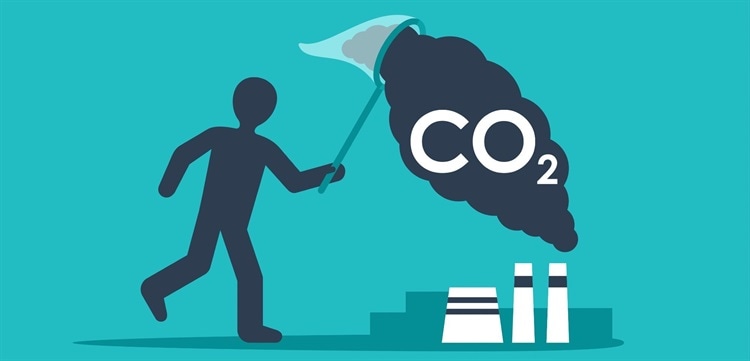 Image Credit: Dmitry Kovalchuk/Shutterstock.com
CCS technology will play an important role during this ongoing low-carbon transition in Europe. CCS is a type of negative emissions technology since it extracts CO2 from the atmosphere and stores it. While there are many forms of carbon storage, there are two main types of CCS: biomass energy with CCS (BECCS) which is based on photosynthesis and direct CO2 capture and storage (DACCS). A 2021 report by The Global CCS Institute reveals insights about key CCS developments in Europe. Suggested steps are shown for Europe to reach its 2050 net-zero goals.
Mineral Carbonation Potential in Europe

The diverse geology of Europe can offer the hidden potential for carbon sequestration through mineral carbonation, where CO2 reacts with rocks to create stable carbonate minerals. The carbon is stored underground, reacting in igneous rocks which tend to have favorable porosity and permeabilities, such as basalts (that comprise 70 percent of the world's ocean basins and five percent of the Earth's continents). Norway is the greatest exporter of basalt rock in Europe, so it is no surprise this will be a key hotspot for mineral carbonation projects.
Regions of Europe comprise areas rendered "highly suitable" for storing CO2 geologically, mainly in the North Sea off the coasts of northern Scotland, northern England, and Northwest Norway. Areas spanning France, Germany, and Poland are also considered "suitable" according to a map developed based on the Global CCS Institute's Storage Assessment Database.
Mineral carbonation has been gaining more interest worldwide. CCS's report states that the estimated storage potential of this process is 100,000–250,000 GtCO2, stating that there is significant storage potential for carbon via mineral carbonation, but like other types of CO2 storage, operational projects at scale will be needed to help implement it. The Global CCS Institute says that "understanding the global distribution of suitable and accessible storage sites is required to enable the full-scale deployment of CCS."
To help achieve this, the institute reviewed sedimentary basins across the world based on their storage suitability, ranked from "unlikely" to "highly suitable". The analyses included findings from previous assessments as well as the Institute's CO2RE database.
Blue Hydrogen Potential

As mentioned in the institute's report, there are also an increasing number of CO2 removal projects in development across Europe, such as hydrogen, since it can help Europe decarbonize. There is particular interest in blue hydrogen where natural gas is split into hydrogen and CO2 which is stored.
The CCS Institute's CO2RE Database includes blue hydrogen for use in producing ammonia, fertilizer, and electricity. For Europe to meet net-zero emissions by 2050, clean hydrogen production needs to speed up, with faster growth needed in the next decades to support net-zero emission targets, being essential in a net-zero economy of the future.
Investing in CCUS and hydrogen relies in part on appropriate policies and regulations being made. Even so, some progress has been made in Europe. In March 2021, BP initiated plans to develop a major blue hydrogen production facility in Teesside, in northern England.
The project will store CO2 while delivering 20 percent of the UK's hydrogen production target by 2030. In June, petroleum refining company Equinor announced it will triple capacity at its proposed Hydrogen to Humber facility. The organization, along with German gas transmission system operator OGE and steel producer ThyssenKrupp began to collaborate to make plans for the exportation of CO2 for storage in Norway or the Netherlands.
Power Station CCS and Other Negative Emissions Solutions

There are plans to deploy CCS on power stations across Europe. In conjunction with northern Italy's Ravenna Hub project, there are plans to capture CO2 from the Ferrare, Mantua, and Ravenna combined cycle gas turbine power plants. CCS is also being considered for use in Belgian power stations.
Europe's biggest port, the Port of Rotterdam is working with businesses and governments to implement decarbonization initiatives. The Port of Rotterdam CO2 transport hub and offshore storage project, Porthos, is expected to be the first large-scale CCS project in an EU member state.
Another negative emissions application that could show promise in Europe is bioethanol for bioenergy with carbon capture and storage (BECCs), where high-purity CO2 is fermented, dehydrated and compressed before being stored. Since the CO2 is originally taken from the atmosphere, this process results in negative emissions.
Waste to energy (WtE) also has the potential for gaining negative emissions, in which plant-based organic matter forms a waste that can be used as a fuel, comprising over 50 percent biomass. The Drax power station in England, which was previously based on coal, has been converted to use processed biomass fuel.
The UK government announced a £1 billion CCUS infrastructure fund which could see more carbon capture and storage processes implemented in the coming decades.