A leading clean energy developer said it will explore developing a green hydrogen hub along the Texas Gulf Coast to support the decarbonization of heavy industry.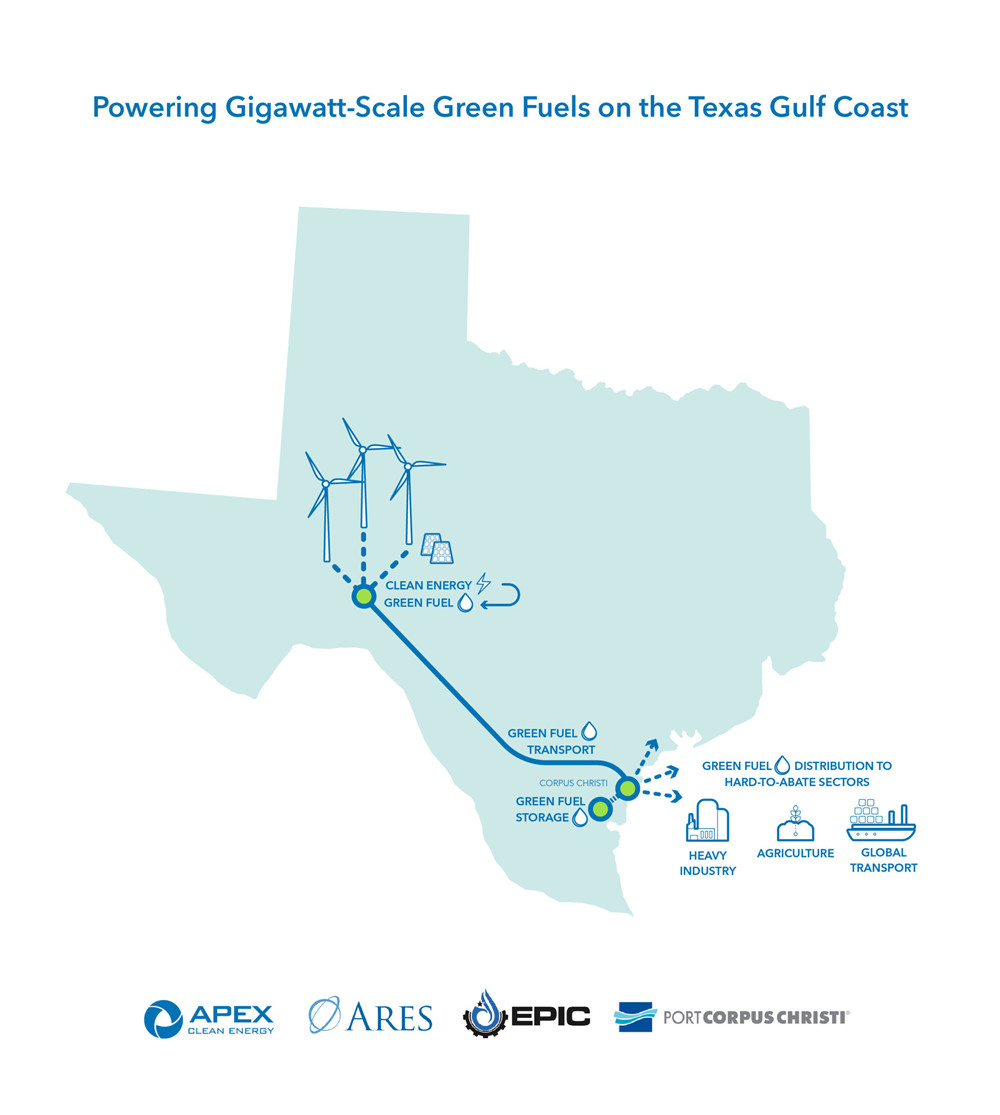 A leading clean energy developer will explore the development of a green hydrogen hub along the Texas Gulf Coast to support the decarbonization of heavy industry, the parties announced. (Courtesy: Apex Clean Energy)

Apex Clean Energy, which manages more than 2 GW of clean energy projects in multiple states including Texas, entered into a nonbinding memorandum of understanding with investment manager Ares Management Corporation, energy infrastructure developer EPIC Midstream Holdings, and the Port of Corpus Christi to explore prospects of the "gigawatt-scale" project.
The group said the project would aim to produce green hydrogen and derivative green fuels "in volumes not yet seen" in the U.S. The project would feature green hydrogen production, storage, and transportation, including a newly constructed pipeline and green fuels hub to be located at the Port of Corpus Christi, they said.
Apex CEO Mark Goodwin said his company would leverage wind and solar resources in Texas to decarbonize heavy industries like transportation, shipping, fertilizer, chemical, and refining sectors.
EPIC was formed in 2017 to build, own and operate midstream infrastructure in both the Permian and Eagle Basins in the Texas oil part. EPIC operates the EPIC Crude Oil Pipeline and the EPIC NGL Pipeline.
Epic's sponsor is Ares Management Corporation, a global investment manager with around $262 billion of assets under management.
The Port of Corpus Christi said in late January that it ended 2021 with record tonnage, mainly attributable to a greater than 80%t increase in shipments of liquefied natural gas (LNG). Its crude oil exports averaged 1.76 million barrels per day in 2021.
Biden bets on green hydrogen
The U.S. Department of Energy's (DOE's) National Energy Technology Laboratory determined that U.S. clean hydrogen production and use must increase 50 fold by 2050 in order to meet the country's decarbonization goals.
Report findings noted while many opportunities exist for hydrogen's growth, government leadership would be critical in achieving decarbonization goals. This would include tax credits and incentives, research, development and demonstration funding.
The DOE's Office of Energy Efficiency and Renewable Energy has announced its intent to issue a funding opportunity to analyze the potential for regional clean energy deployments, all in the name of reducing the cost of green hydrogen production from $5 per kilogram to $1 by 2030.
Additionally, President Biden's FY 2022 budget request includes $400 million for hydrogen activities, compared to $285 million in FY 2021.
A long way to go
Green (or clean) hydrogen produced using renewable energy and electrolysis represents only 5% of the hydrogen produced in the U.S., due to its high cost, while the remaining 95% is produced using fossil fuels. So-called "blue hydrogen" produced from natural gas incorporates carbon capture and storage, though recent studies suggest the practice could produce even more carbon emissions in heat generation than using natural gas alone.
Last September, dozens of climate groups urged leaders in Congress to avoid funding hydrogen-based technologies in the infrastructure and budget reconciliation packages. Nevertheless, $9.5 billion for hydrogen hubs and manufacturing and recycling supply chains was included in the bipartisan infrastructure bill that was signed into law.
On Feb. 15, the Biden administration requested information on the formation of the Regional Hydrogen Hub and the Electrolysis and Clean Hydrogen Manufacturing and Recycling Programs.