However, there are barriers that hinder progress in the sector.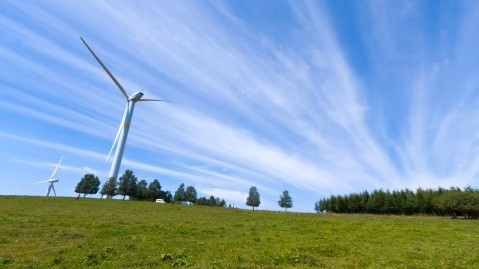 The Philippines has the potential to be a regional leader in wind energy in Asia but barriers remain in expanding the country's wind energy capacity, according to the Global Wind Energy Council (GWEC).
In the Capturing Green Recovery Opportunities from Wind Power in Developing Economies report, GWEC said the Philippines has an "appropriate permitting and auctioning infrastructure in place and was on track a decade ago to rely primarily on renewable energy."
However, it identified policy commitment as one of the reasons that hindered the progress in wind energy.
Whilst the government is pushing for renewables, nuclear and liquified natural gas projects have been promoted as alternatives to coal. It added that it is difficult for renewable energy projects to win contracts as auctions are "technology-neutral and biased towards baseload technologies."
"In addition, the Department of Energy (DoE) currently takes a passive approach to wind energy expansion, refraining from any significant steps to improve the wind energy pipeline and not actively promoting renewables as a necessary energy source," it said.
GWEC said the current permitting system for renewable energy is "lengthy, complex, and bureaucratic" as permits were needed from 15 different national and local government agencies. The leasing mechanism and service contracts are viewed favourably by developers but the terms and conditions can be made simpler.
The Philippines' bidding process also contained excessive conditions which put off prospective developers, it said.
It added that the availability of grid connections and bottlenecks in the transmission network also poses a challenge and delays projects, reducing investor confidence.
Road to green recovery
To accelerate the installation of wind energy and green recovery, GWEC said the Philippine government must commit to supporting renewable energy as the preferred energy source in the country and must remain stable despite changes in administration.
This could be done through setting higher capacity targets for wind and renewable energy in the Philippines Energy Plan and by updating feasibility studies and measurement campaigns to explore the potential of wind energy using the latest technology.
The country should also consider holding technology-specific auctions or pots within auction for the wind industry, GWEC said, adding that having more transparency on the design and implementation of the Green Energy Auction Program "will clarify the prioritisation of renewable energy."
The online Energy Virtual One-Stop Shop for permitting and bidding should also be expanded, it said.
GWEC also stated that the country should streamline and simplify terms and conditions in service contracts and the country's energy department should be more proactive in the industry.
The country should also ensure that proactive grid planning and investments in place consider future renewable energy projects and they should consider technical feasibility studies on forecasting and smart distribution systems that can be integrated with the national power grid.