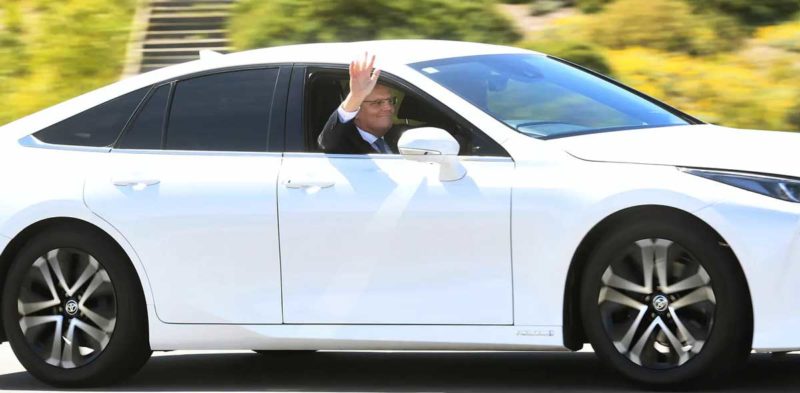 PRIME MINISTER OF AUSTRALIA SCOTT MORRISON DRIVING A HYDROGEN-FUELLED CAR IN MELBOURNE. AAP IMAGE/POOL, WILLIAM WEST VIA THE CONVERSATION
Japanese car giant Toyota this week got to share some publicity about its Mirai hydrogen fuel cell car, announcing it had signed three year leases for at least six of the 14 vehicles it has imported into Australia.
The lucky customers included former chief scientist and hydrogen enthusiast Alan Finkel, and companies such as Telstra, Red Energy, Acciona (which has the first major hydrogen supply contract in Australia for a big solar farm), hydrogen technology company Hyzon and the Yarra City Council.
Hydrogen fuel cell cars get a lot of publicity, at least in comparison with the actual number of cars that are actually on the road.
Prime minister Scott Morrison and energy minister Angus Taylor were seen driving a hydrogen FCEV to highlight their hydrogen strategy, although neither has been photoed in a battery electric car. It seems it is yet another occasion of the Coalition – who relentlessly mocked EVs in the last election campaign – backing the wrong technology.
FCEVs are frequently assumed to be part of the grand plans for a green hydrogen economy, but the reality is that they remain a pretty poor bet next to battery electric vehicles, at least and particularly in the passenger car market.
Two numbers included in BloombergNEF's most recent deep dive into the hydrogen industry illustrate why.

SOURCE: BLOOMBERGNEF.
There are some 20 million battery electric vehicles on the roads across the globe today, and more than 6.5 million were sold in 2021.
The grand total of FCEV? Less than 38,000. Just 3,500 were sold in the third quarter of 2021, more than half in South Korea where the likes of Hyundai have made a big bet on FCEVs. More than 1.7 million full battery electric vehicles were sold in the same quarter.
The same goes for charging points. FCEV enthusiasts like to tell us that re-fuelling a hydrogen car has longer range and takes around the same time as a petrol or diesel car.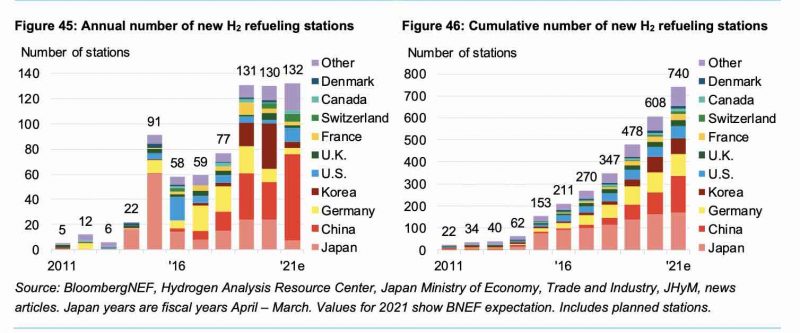 SOURCE: BLOOMBERGNEF.
The big challenge is finding a hydrogen re-fuelling station. In Australia there are fewer hydrogen refuelling stations than there are fingers on your hand.
And they have limited capacity, no more than a dozen cars can be fuelled in any one day because of the limits of electrolyser capacity at the Toyota station in Melbourne and only a handful at the Hyundai refueling station in Canberra.
According to BloombergNEF, just 132 new H2 refueling stations were added across the world in 2021, half of those in China, taking the global grand total to 740.
"The number of H2 refueling stations lags the number of charging points for battery electric vehicles (BEVs) more than 11,000 times," BNEF noted, adding that there were around 8.3 million BEV charging points across the globe by the end of 2021.