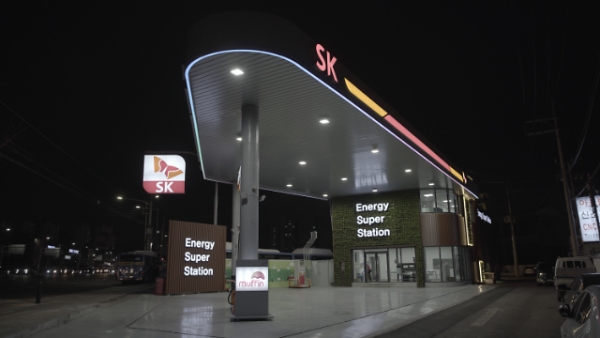 In a pilot project aimed at expanding the distribution of clean energy, South Korea Government and SK fuel retail opened the first 'total super energy' station that charges electric vehicles and generates electricity from fuel cells and solar power, along with fueling.

An old service station run by SK Energy in Geumcheon District in south Seoul was transformed into a comprehensive energy station equipped with 300 kilowatts of fuel cells, 20KW of solar power, one ultra-fast charger, and one quick charger. Electricity produced by fuel cells and solar power will be sold to a state power company to earn profits or to charge electric vehicles.
The pilot project launched by the Seoul city government and SK Energy, has won government approval through a regulatory sandbox policy that exempts regulations. Fuel cells or energy storage systems (ESSs) cannot be installed at service stations. Due to the risk of chemical fire that is hard to put out, South Korea regulates the safety standards of ESSs used for storing energy generated by renewable energy generators.
SK Energy aims to increase the number of total energy stations to 100 in Seoul by the end of 2023. The Seoul city government said it would cooperate with other oil refiners to expand the establishment of total energy stations. The goal is to install electric and hydrogen vehicle charging facilities at fuel service stations with good vehicle access and convert them into facilities that supply both existing fossil fuels and renewable energy. Source: Lim Chang-Won AJU - PW090222