Hyundai Engineering announced on Jan. 9 that it has won the Indonesia LINE project worth US$757 million.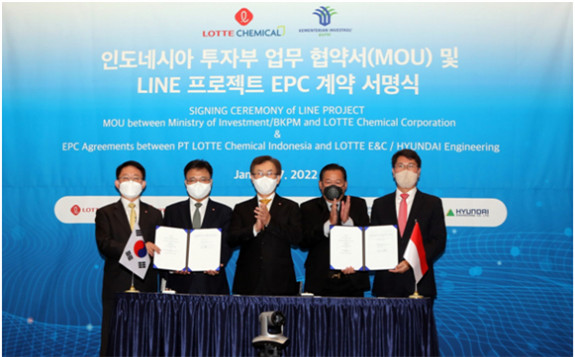 The company will build a naphtha cracking center (NCC) for the LINE complex, a super-large petrochemical complex being promoted in the Cilegon area 90 kilometers northwest of Jakarta, the capital of Indonesia.
Meanwhile, Hyundai Engineering is making a big change in its business portfolio in line with Hyundai Motor Group's shift to hydrogen electric vehicles and hydrogen fuel cell business. The company is promoting technology cooperation and large-scale investments to secure competitiveness in the eco-friendly hydrogen business.
Hyundai Engineering is looking to commercialize a system that cracks ammonia to produce hydrogen. The company has signed an investment agreement with AAR, a company that has ammonia-based hydrogen production technology, to produce high-purity (99.99 percent) hydrogen by decomposing ammonia.
On top of that, the company will start building a plant this year to produce high-purity clean hydrogen using plastic waste as a raw material. It will invest 400 billion won to build the plant in Dangjin, South Chungcheong Province in Korea. Commercial production is scheduled to start in 2024.
Hyundai Engineering plans to produce 22,000 tons of high-purity clean hydrogen annually by treating 100,000 tons of plastic waste. Its hydrogen output can power 150,000 hydrogen cars for a year (14,000 kilometers per year).
Hyundai Engineering will also acquire a stake in USNC, a U.S. energy company, within the first quarter of 2022 to secure an exclusive engineering, procurement and construction (EPC) right for ultra-small module reactors. It will focus on the development of a high-temperature gas-cooled reactor (HTGR) and a very high temperature reactor (VHTR), which produce not only nuclear power but also hydrogen.
Earlier in July 2021, Hyundai Engineering launched the Green Environment & Energy (G2E) Business Division dedicated to eco-friendly energy businesses such as clean hydrogen production, next-generation small reactor development and environmental resource circulation.