Used lithium-ion batteries taken from carmaker Audi's electric vehicles (EVs) have been repurposed into a 'second-life' stationary energy storage system by energy company RWE at a project in Herdecke, Germany.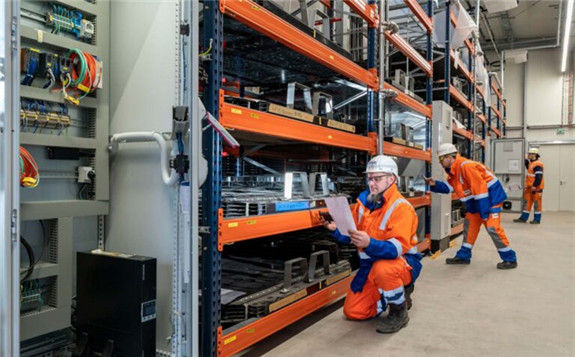 RWE has deployed the system, which has a capacity of around 4.5MWh, at the site of its pumped hydro energy storage (PHES) plant at Hengsteysee reservoir in the North-Rhine Westphalia region of north-west Germany.
The decommissioned batteries are taken from development models of Audi's e-tron EVs, which have a maximum range of 252 miles when used for transport. They still had about 80% of their residual capacity remaining when taken out of use, RWE said in a press release issued just before the end of last year.
In their second-life as components in a battery energy storage system (BESS), the batteries could be usable for up to 10 years and their low cost is an advantage over using brand new devices, RWE said.
In total, 60 batteries, each weighing about 700kg, are housed in a 160 metres-squared hall. The project was executed quickly: battery installation began in October and components started to be commissioned in November.
RWE will market capacity from the batteries from early this year, initially for frequency regulation applications where they will help stabilise the German grid. Other applications and market-facing opportunities are expected to then be tried out as the project progresses.
"Our joint project with RWE is intended to illustrate the opportunities to save resources by making use of used high-voltage batteries, and through smart integration into the energy network of the future," Audi member of the board for managing technical development Oliver Hoffmann said.
"We are also thinking right now about what happens after this stage of utilisation and are expediting effective battery recycling."
Hoffmann added that Audi's "electric offensive" strategy will see the carmaker launch 20 fully electric automobile models by 2025. The company's ambitions in its path to enabling carbon neutral mobility "extend well beyond the vehicle alone," leading it to partner with energy companies such as RWE on developing sustainable mobility solutions.
RWE targeting 3GW of energy storage by 2030
RWE meanwhile has about 600MW of battery storage in operation today but is targeting increasing that figure to 3GW by 2030. In addition to the Herdecke second-life project it has nine other battery projects underway in the US, Germany and Ireland, the company said, while it is also looking into advanced non-lithium technologies like redox flow batteries.
An existing 7MW BESS is already located at an RWE facility in Herdecke, completed in 2018.
During 2021 the company announced two innovative projects to pair battery storage with run-of-river hydroelectric plants in Germany, increasing their efficiency.
It also won tariff contracts with the German Federal Network Agency (Bundesneztagentur) for two DC-coupled solar-plus-storage projects in the country. The projects — both located at coal power plant sites — won out in the Bundesneztagentur's 'Innovation Tender' process, for which projects using two or more low carbon energy technologies at the same site are eligible.
"In Herdecke we are working with Audi to test ways to use decommissioned high-voltage batteries from EVs by connecting them together to form stationary storage systems," RWE Generation CEO Roger Miesen said.
"Putting such 'second-life' batteries to further use is a sustainable alternative to factory-new batteries. The experience from this project will help us identify the applications for which we can use battery systems of this nature most cost-effectively."
Second-life batteries from EVs have been discussed for a long time as a potential source of components for stationary energy storage. As yet, there are not large volumes of used EV batteries available, and the engineering required in matching capacities of batteries at different levels of previous usage are thought to be barriers to adoption, albeit perhaps in the short rather than long-term.
Several such projects are in operation around the world already from a variety of carmakers, energy companies and integrators, mostly at the smaller end of the grid-scale spectrum. For instance, in February 2020, Energy-Storage.news reported that UK second-life BESS specialist Connected Energy had deployed a 1.2MW / 720kWh system for multinational materials tech company Umicore in Belgium, using Renault Kangoo batteries.
Earlier in 2020 Connected Energy CEO Matthew Lumsden said that successful projects were the best way to build confidence in the second-life concept, as the company unveiled a 300kW / 360kWh facility in England, again using Renault EV batteries.