Unit 6 of the Fuqing nuclear power plant in China's Fujian province - the second of two demonstration Hualong One (HPR1000) reactors at the site - has begun supplying electricity to the grid, China National Nuclear Corporation (CNNC) announced. The first two Hualong One units - Fuqing unit 5 and unit 2 of Pakistan's Karachi plant - entered commercial operation in 2021.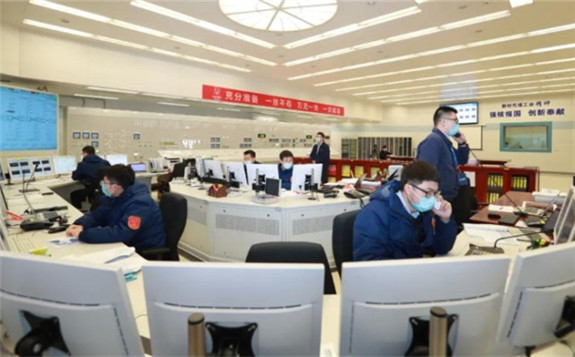 CNNC said the unit was connected to the grid at 10:35pm on 1 January. "It has been confirmed on site that all technical indicators meet the design requirements, and the unit is in good condition, laying a solid foundation for the subsequent formal commercial operation," the company added.
China's State Council gave final approval for construction of Fuqing units 5 and 6 in April 2015. The pouring of first concrete for Fuqing 5 began in May 2015, marking the official start of construction of the unit. Construction of unit 6 began in December the same year. Unit 5 was connected to the grid on 27 November 2020, having achieved first criticality on 21 October, and entered commercial operation on 30 January last year.
The process of loading the 177 fuel assemblies into the core of Fuqing 6 began on 6 November.
Construction of two demonstration Hualong One units is also under way at China General Nuclear's Fangchenggang plant in the Guangxi Autonomous Region. Those units are expected to start up in 2022. CNNC has also started construction of two Hualong One units at the Zhangzhou plant in Fujian province, plus two units at Taipingling in Guangdong.
Two HPR1000 units are under construction at Pakistan's Karachi nuclear power plant. Construction began on Karachi unit 2 in 2015 and unit 3 in 2016. Karachi 2 was connected to the grid in March 2021 after the completion of commissioning tests. Karachi 3 is expected to start up later this year.
According to CNNC, the capacity of each HPR1000 unit is 1161 MWe, and annual power output is about 10 billion kilowatt-hours, "satisfying the annual electricity needs for production and domestic use of 1 million people in a moderately developed country". It said this is equivalent to an annual reduction of standard coal consumption of 3.12 million tonnes, reducing carbon emissions by 8.16 million tonnes.