The U.K.'s first large pumped storage hydroelectric project in three decades has secured all necessary approvals, with procurement now underway, but the $1.3-billion, 1.5-GW Coire Glas project in Scotland is stalled while its developer awaits better financial incentives.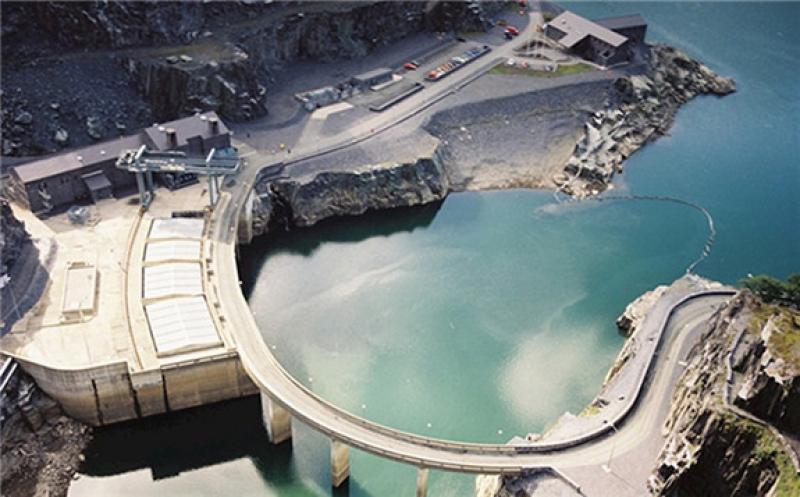 The project would involve construction of an upper reservoir providing a 500-m drop to the existing Loch Lochy lake, about 15 km northeast of Fort William in the Scottish Highlands. "We are in a position to build," says Ian Innes, Coire Glas project director for utility SSE Renewables. "The moment has come for pumped storage."
Coire Glas would cut up to $900 million per year from the national system's energy costs by 2050, according to Mike Seaton, SSE Renewables development director. He cites an SSE-commissioned study by Imperial College, London, that says 75% of the savings would come from not having to implement a more capital-intensive, clean energy-generation approach.
But the study also found that the U.K.'s electricity market is incapable of recognizing the benefit of a pumped storage hydro strategy to meet decarbonization and supply security targets. It also identified large revenue uncertainties "making the investment case challenging for high-capex, long-duration storage technologies."
Globally, long lead times, permitting risks and "the absence of long-term revenue visibility have stalled pumped storage hydro deployment in countries with ambitious, long-term decarbonization targets," notes the International Energy Agency in its report, Hydropower Special Market Report Analysis and Forecast to 2030.
But as development of variable output renewable-energy strategies balloons worldwide, demand for pumped storage hydro will rise—potentially leading to 65 GW of new capacity globally by 2030, IEA forecasts. That would nearly double the decade record of 34 GW in 1971-1980, it says.
For SSE's Coire Glas to be part of that growth, SSE's Innes says the company needs the security of a payment mechanism, such as a regulated "cap and floor" that sets upper and lower allowable profits over perhaps a 25-year period.
The company is encouraged by recent developments. Last July, government energy officials published a plan outlining the role of storage technologies, including pumped storage hydro, in achieving carbon targets. It now accounts for 75% of the U.K.'s 4 GW of electricity storage—mainly at the 1,728-MW Dinorwig plant in Wales, commissioned in 1983.
The government also is reviewing how to tailor the electricity generation-capacity market for projects with long construction periods, such as pumped storage hydro.
Commercial Hurdles
Commercial hurdles have stood in the way of Coire Glas since SSE first secured Scottish government approval for a 600-MW plan in 2013. While failing to make a start, SSE enlarged the scheme to 1.5-GW capacity and 90 GWh storage, gaining necessary approvals in October 2020. Innes says a final decision will be made in December 2023 that aims for six or seven years of construction to start by the following April.
"Over the next couple of years, we will work with the supply chain to understand what their approach ... will be," says Innes. For the design-build contract, "we wanted to be able to control who the mechanical and electrical contractor would be because in a pumped hydro scheme ... the mechanical plant is key," he adds.
SSE has launched a two-stage procurement process, starting with bid invitations in December to four competitors for the civil construction and to three for the mechanical and electrical component. By April, SSE will receive price and method offers based on a reference design by Canada-based Stantec Inc., resulting in a shortlist of two civil contractors and one M&E contractor.
Bidders for the civil work are:
Bechtel Ltd. with Acciona Construcción S.A. and Webuild S.p.A
Eiffage Géni Civil, BeMo Tunnelling U.K. Ltd., BAM Nuttall Ltd., and Marti Tunnel A.G.
Strabag U.K. Ltd.
Dragados S.A.
The two shortlisted civil contractors will "have the opportunity to speak to who(ever) will end up as the M&E supplier," says Innes. Both civil contractors, teamed with the same M&E company, will submit bids for the whole project.
The time needed to develop bids will depend on the site investigation progress, he adds. The civil construction bidders "need to know rock conditions ... that will be a huge influence on their pricing," Innes says, adding that he expects drill and blasting of a pilot bore along the access tunnel route to start next June and last up to a year.
SSE is developing the project alone, but "we do have a lot of interest from possible equity partners and we are keeping the option of project finance open," he says.
Australia Expands Pumped Storage
Australia has used the approach with its 2-GW Snowy Mountain 2.0 pumped storage hydro project, located about 50 km southwest of Canberra, with construction led by a Coire Glas bidder.
The $3.7-billion project, with 350,000 MW-hours of storage capacity, expands the country's 4.1-MW hydropower project that was finished in the 1970s. The new phase is set for completion on schedule in 2025, says Paul Broad, CEO of project owner Snowy Hydro Ltd.
Started in August 2020, construction by the Future Generation joint venture involves driving 27 km of tunnels between the Tantangara and Talbingo reservoirs. Webuild and its U.S. subsidiary Lane Construction Inc. jointly own 65% of the joint venture, with Perth, Australia-based Clough Group Pty. Ltd. owning the rest.
The joint venture in December commissioned the project's second tunnel-boring machine, just as the first one completed more than one-third of the 2.6-km main access tunnel to the powerhouse site, about 800 m below ground.
Built to drill slopes at grades of up to 47%, the new, 11-m-dia Herrenknecht machine will bore a 2.9-km emergency, cable and ventilation tunnel, followed by a 1.4-km inclined pressure shaft and 2.4 km of the headrace tunnel.