Brazilian oil and gas company PetroRio has undertaken the required steps to move forward with the development of the Wahoo field – located offshore Brazil – by submitting a development plan to the National Petroleum Agency, Natural Gas and Biofuels (ANP).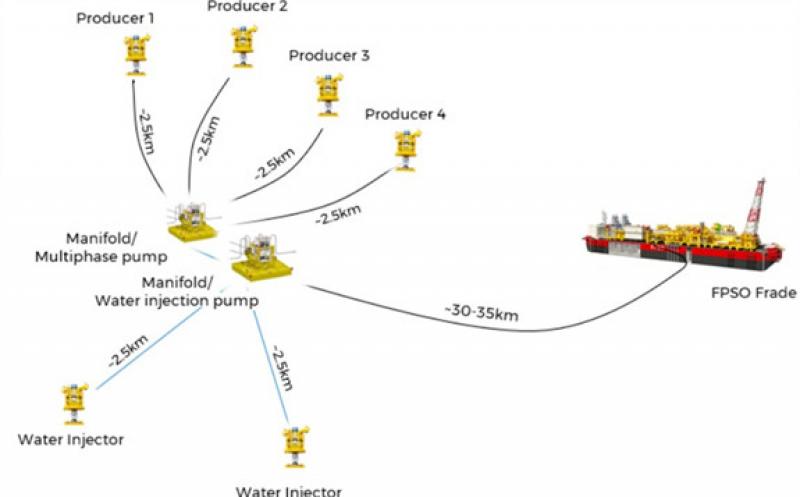 PetroRio reported last week that the declaration of commerciality of the Wahoo discovery and the development plan under exclusive operation were filled with ANP.
The Wahoo discovery is located in Block C-M-101, and has 126 million recoverable barrels of oil (1C), according to the reserve certification issued on 1 January 2021 by D&M.
To remind, the company signed an agreement with TotalEnergies for the acquisition of a 28.6 per cent interest in the BM-C-30 block in March this year and the acquisition of interest in the Wahoo field was completed in July.
Therefore, following the aquistion, PetroRio holds a 64.3 per cent interest in Wahoo, as it bought an initial 35.7 per cent interest in the field from BP in November 2020.
PetroRio plans to create a second production cluster through the tieback between Wahoo and the Frade field, in line with the operational optimisation strategy for the assets. It is worth reminding that PetroRio owns the Frade field. It bought a 30 per cent stake in this field from Petrobras in January 2021 and 51.74 per cent interest from Chevron in 2019.
The Wahoo base project covers the drilling of four producer wells and two injector wells and the tieback between the wells and the Frade FPSO. To this end, PetroRio hired in July 2021 Ocyan Drilling's semi-submersible Norbe VI rig for the Frade field revitalization campaign and the Wahoo field development. Based on the previously provided timeline, the contract is scheduled to start in March 2022.
The expected capex of the project is composed of $300 million for the tieback, $360 million for well drilling, $100 million for subsea equipment, and $40 million for adjustments to the Frade FPSO and other items. Wahoo's first oil is expected to happen in early 2024.
It is also worth noting that PetroRio concluded the tieback between the Polvo and Tubarão Martelo fields in July this year to create its first cluster.
In October, the company started production from another well on the Tubarão Martelo field offshore Brazil, as part of its strategy to revitalise and extend the life of the cluster.