African renewables developer Lekela has signed a grant agreement with the US International Development Finance Corporation to fund a feasibility study for an extension to the Taiba N'Diaye wind farm in Senegal.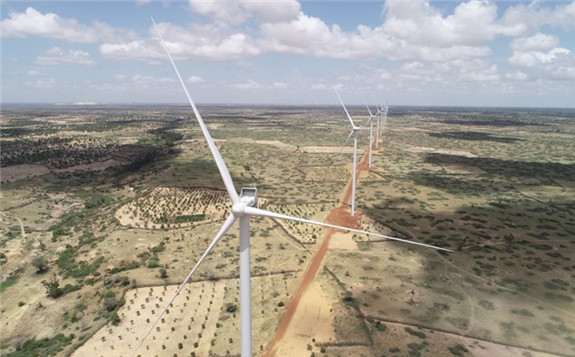 The aim is to extend the 158.7MW project by a further 100MW.
The feasibility study, which is expected to take 15 months, will be jointly financed by Lekela and DFC.
The study covers an area west of the existing wind farm and will consist of a wind measurement campaign, a network study, an environmental impact study and other on-site surveys.
Lekela chief executive Chris Antonopoulos said: "This study represents an exciting opportunity to continue the expansion of wind power in Senegal and provide more clean, reliable energy to local people.
"Having completed our Taiba N'Diaye earlier this year, this expansion serves as a vote of confidence in the role of wind power not just in Senegal, but in Africa more widely.
"As we look to create a greener, more sustainable future, it's crucial that we explore ambitious projects like this, that expand renewable capacity and help to deliver much needed electricity to the region."
Taiba N'Diaye is operational and consists of 46 Vestas turbines.
It is part of the government's Plan Senegal Emergent.
It is one of several being built across Africa by Lekela which in total has 1300MW of wind power in operation, construction and development.
Lekela was also recently awarded a grant from the US Trade and Development Agency to fund a feasibility study in partnership with Senelec for Senegal's first grid-scale battery electric storage system, which will be located at the site of the wind farm.
The study will focus on how to provide increased grid stability and integrate intermittent renewable energy into Senelec's electricity grid.
The project is expected to be one of the first stand-alone battery storage projects built on an independent power producer basis and one of the first large-scale applications of battery storage in Senegal and in Africa overall.
As well as the provision of power, Lekela has a long-term commitment to the Taiba N'Diaye community and has developed a plan of socio-economic investments for local people.
The investments are focused on improving education, enterprise and the environment and are estimated to contribute up to $20m (€17.8m) over the lifetime of the wind farm.
Alongside creating hundreds of employment opportunities during construction, two new marketplaces have been constructed and a new IT centre has been built, which will benefit approximately 1500 students each year.
In addition, the project was designed to work with the natural environment, with regular monitoring and impact assessments to ensure biodiversity is not being harmed, Lekela said.