Need for uranium by China's nuclear power generators will rise in the long term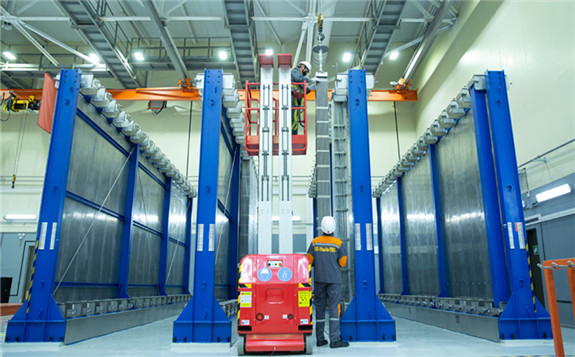 China General Nuclear Power Corp, the country's largest nuclear operator, said its nuclear fuel assembly plant put into production in November will further ensure fuel supply to its projects at home and abroad.
CGNPC Uranium Resources Co Ltd, a subsidiary of CGN, said the nuclear fuel assembly plant will supply 200 metric tons of uranium for fuel assembly each year for 20 years in China.
The project is a joint venture with Kazakhstan's national atomic company Kazatomprom. CGNPC Uranium Resources owns a 49 percent stake and Kazatomprom holds the rest. The plant is part of CGN's efforts to expand its nuclear fuel assembly supply as nuclear power installations in China have been expanding amid the country's ramped-up efforts in the transition to green energy.
As of the end of December 2020, China had 17 nuclear power units under construction, and the capacity of assembled units under construction remained the world's largest for many years.
Shenzhen, Guangdong province-based CGN said it has been carrying out in-depth cooperation with Kazatomprom in the fields of uranium resource exploration, natural uranium trade and nuclear fuel pellet processing.
The two have jointly developed four uranium mines in Kazakhstan, namely Irkol, Semizbay, Central Mynkuduk and Zhalpak. They have not only helped secure CGN's uranium assets abroad but also allowed the company to gain experience in the operation and management of uranium overseas. The company has also put together agreements in most of the world's uranium-producing countries, including Namibia, Australia and Canada.
Analysts said it is important for China, with ambitious clean energy generation expansion plans, to secure nuclear fuel resources at home and abroad while Chinese corporations also have the potential to become major global players in the nuclear sector.
Wei Hanyang, a power market analyst at research firm BloombergNEF, said the need for uranium resources by China's nuclear power generators will rise in the long term.
"CGN has long invested in overseas uranium resources and cooperated with several uranium mines with Kazakh state-owned entities," Wei said. "This plant, whose capacity is enough to serve eight regular nuclear reactors, will help China secure future fuel resources and reward both countries in terms of economy and energy security."
China has abundant uranium resources scattered in many types of deposits. However, most of them are unconventional uranium with high exploration costs. The country has been relying on uranium exported from countries including Kazakhstan, Canada and Australia, all of whom account for two-thirds of world production.
CGN has witnessed impressive performances in nuclear power, nuclear fuel, nuclear power station digital instrument control and clean energy sectors.
Li Yilun, senior vice-president of CGN, said earlier the company will step up investment in overseas nuclear power projects, particularly in countries and regions participating in the Belt and Road Initiative. As the proportion of nuclear power generation in green energy will further rise year-on-year, the company's overseas investment will also step up.
"With the development of nuclear power being a global choice, we have confidence that Chinese technology and Chinese nuclear power professionals have the ability to address certain issues," Li said.
The company is also stepping up exports of its Hualong One technology, a domestically developed third-generation reactor design with proprietary intellectual property, jointly conducted by CGN and China National Nuclear Corp.
In addition to the United Kingdom, Li said the company is cooperating with countries and regions participating in the Belt and Road Initiative, including Egypt, Bangladesh and the United Arab Emirates, on the deployment of not just nuclear energy but clean energy sources such as wind and photovoltaic power.
While nuclear power makes up a small proportion of China's power structure, a strong rising trend is expected in the near future.
China's first nuclear power unit using Hualong One technology, the No 5 nuclear power unit in Fuqing, Fujian province, was successfully connected to the grid in Fujian last year. This boosted China's competitiveness in the global nuclear sector while bolstering confidence in Hualong One in the global market.