China and Russia will expand green and low-carbon cooperation in the fields of trade, investment and energy, as well as science and technology, in order to promote new achievements in mutually beneficial cooperation between the two countries, according to a joint communiqué issued by Chinese Premier Li Keqiang and Russian Prime Minister Mikhail Mishustin during the 26th regular meeting between Chinese and Russian heads of government via video on Tuesday.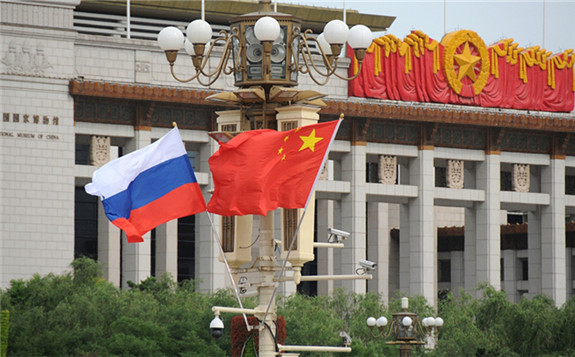 According to the communiqué, the two countries will further strengthen economic and trade cooperation and improve the trade structure to cultivate new trade growth momentum. During the first 10 months of this year, bilateral trade reached $115.6 billion, over 30 percent higher than the same period last year. Before the year ends, it is expected to reach a new high, Chinese Foreign Ministry spokesperson Wang Wenbin said at a routine press conference on Monday.
Trade between China and Russia in the energy sector from January to September reached $34.9 billion, accounting for 34.3 percent of total trade between the two sides, data from the National Energy Administration showed.
The two countries will open a Sino-Russian mail route to promote cooperation on postal business via the China-Europe freight train, providing more convenience for e-commerce customers and manufacturing enterprises. At the same time, they will promote the implementation of the agreement on road transportation of dangerous goods, as well as increasing railroad container traffic and cross-border traffic with the improvement of the two countries' infrastructure including highways and railway bridges.
The communiqué also said that China and Russia will continue in-depth cooperation on terminal operating systems – including Russia's Aurora, Huawei's Harmony OS and openEuler – and promote exchanges between companies from the two countries, so as to unleash the export potential of information technology products.
The two sides will further promote the development of trade in food and agricultural products, as well as enhancing the stability and transparency of the import and export policies for agricultural products to boost the trade volume of soybeans, oilseeds and fats between the two countries.
According to the communiqué, the two parties will expand iron ore trade and strengthen cooperation in the potash industry in order to promote the construction of potash resource development projects.
China and Russia will further promote cooperation between the Belt and Road initiative and the Eurasian Union, and continue to develop a sustainable and open world economy, as well as consolidating the multilateral trading system and opposing trade protectionism, in order to ensure the stability and sustainability of the global industrial chain and supply chain, thus promoting the stable recovery of the world economy.