Combined heat & power is starting to gain some new attention in the power generation industry. Also known as co-generation (cogen, for short), CHP is actually not new; in fact, it is one of the oldest, energy-efficient power solutions, operating during a time when plants generated their own electricity using coal-fired boilers and steam-turbine generators.
A century later, CHP technology is seeing a resurgence due to its improved efficiency. Gas engine CHP systems are now almost 90% energy-efficient. Cogen systems are generally installed onsite for large facilities and buildings that need both electricity and thermal energy, such as institutions, hospitals, schools, and greenhouses.
Since most conventional electricity generation is limited to an average of 50% efficiency (coal-fired/gas-combined cycle), waste energy in the form of heat is discharged to the atmosphere. CHP offers significant improvements in efficiency because it produces two forms of energy from a single source: heat and electricity.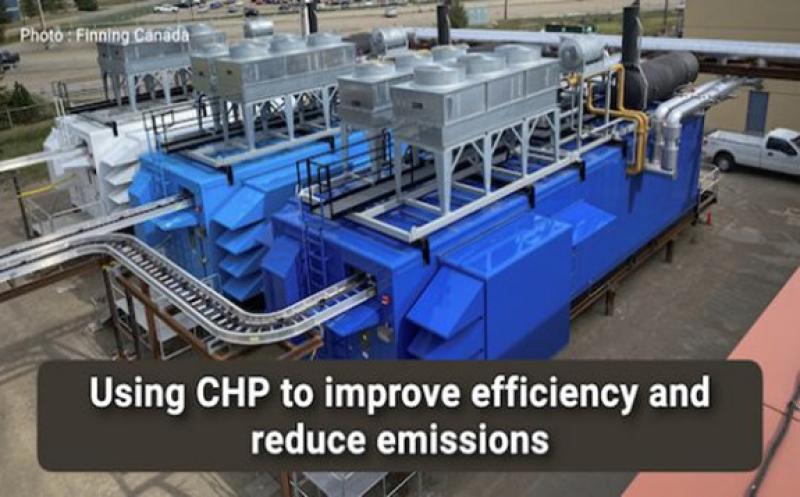 CHP is limited only by its ability to employ power generation in proximity to the heat load. Large-scale power plants were built in an era when heat wasn't considered beyond a moderate combined-cycle system; the transmission & distribution requirements are intensive, and their locations made it impossible to utilize the heat source effectively.
Wastewater treatment plants are a prime example of a year-round CHP application. Thermal and electrical energy are in high demand throughout the process, where methane gas captured from the digesters run engine generators, producing heat for the digesters and electric power for supporting the onsite electrical loads (e.g. pumps, process equipment).
A remote mining application in Canada's North, for example, could also benefit from plant and site heating in an islanded power application.
The growing interest in distributed generation, lower-cost of installation and maintenance, and flexibility with renewables, provide an advantage in efficiency and immediate reduction in carbon emissions. As we navigate to new energy sources, gas engine CHP systems will integrate effectively with renewables and future fuels, such as hydrogen.
What's driving the growth of CHP?
Greater energy efficiency, reliability and lower costs are top priorities for any business. Companies need to focus on their Environmental Social Governance (ESG) when setting standards for their operations. Socially conscious investors use these metrics to screen potential investments and consider how a company performs as an environmental steward.
Facilities with significant heating loads (e.g. hospitals, universities, military bases, ski resorts, shopping malls, high-rise office buildings) can all obtain reduced operating costs by implementing CHP systems that provide heat energy to meet the facility's thermal requirements while taking advantage of offsetting (exporting electrical generation).
Unlike long-term, grand-scale power projects with higher costs, commercial businesses that are financially able to build their own cogen plants can complete these projects quickly and efficiently, gaining substantial savings in the short term.
Edmonton International Airport recently implemented a CHP solution designed around its terminal heating loads, as opposed to upgrading boilers alone. This not only met their heating requirements but allowed EIA to offset its electrical utility loads, raising overall efficiency. It also gives them the ability to export or offset the grid when power prices peak and heat demand is low.
Many manufacturers now offer standardized CHP systems that remove the hassle and complexity of customized engineering elements. These packaged CHP solutions reduce onsite installation and construction costs and offer big benefits for smaller sites, including customized maintenance solutions for those without trained operators onsite.
Like any technology, CHP is not without its challenges
The potential for CHP growth is substantial, but there are several barriers limiting widespread adoption. The two primary challenges are integrating heat into the existing infrastructure, and securing interconnection agreements with the electric utility.
As we move forward to alternative energy strategies in the future, CHP provides an immediate impact and improved efficiency. For CHP to see true success in Canada, utilities and governments need to be open and responsive to companies and see it as an energy solution that benefits everyone involved. In fact, utilities are well-positioned to take the lead on facilitating CHP in suitable applications.
CHP is already happening in remote locations, First Nations communities and remote industrial operations, for example mining, where it is cost effective on a large scale.
After all, maximum efficiency is only realized when both sources of energy (heat and power) can be employed. While the technology is simple, questions concerning permits, inspections, regulations, project complexity and installation—not to mention integration with the grid—can lead to uncertainty around CHP.
The regulation of electric utility markets in Canada, which varies between provinces, can stall the process, making it difficult to obtain the necessary permits and approvals for independent power generation projects. When generating to the grid, limitations on export, demand charges and other costs tend to drive the ROI. As well, government subsidies for projects with improved carbon footprints can change with every election cycle (provincial and federal) and are burdensome in the approval process.
Another challenge is uncertainty with the installation process. The costs and complexity of installation really depend on the system itself, including things like the size of the unit, maintenance, location, site attenuation and local emission requirements.
The best application for cogen is one requiring both heating/cooling and electricity. Environmental factors also play a role. In Canada, generators need to function in extreme temperatures, which often requires packaged systems (gensets in enclosures) to be custom-built and insulated to withstand our harsh winters.
Reaching out to a reliable equipment and technology partner can help. Your dealer can provide support and insight into operation and local regulations, guidance in understanding the needs of your business, accessing grid supply information, and using data analytics to decide on the optimal type of power generation to meet your unique business requirements.
CHP is reducing emissions
Many organizations are (or should be) exploring power solutions that can help mitigate their reliance on fossil fuels and reduce their overall carbon footprint. Wind and solar have become common renewable energy sources, but they come with their own challenges, like power inconsistency and a lack of capacity for storing power.
From transportation and construction to manufacturing, food processing, greenhouses, hospitals and nursing homes, CHP's reliability benefits are key in supporting industries in reducing their carbon emissions while maintaining the same energy outputs as other generators. A combination of CHP and renewable energy can provide long-term, onsite energy for locations that need better reliability and low carbon emissions. And when heat loads are low, CHP systems also provide reduced costs as they are able to shift production to the hours with the lowest electricity prices and sell to the grid during peak demand.
Hydrogen is quickly emerging as a clean, new fuel, and it is predicted to be the solution to decarbonizing the energy sectors. Many CHP systems are already using a combination of renewable fuels and natural gas. As hydrogen becomes more available, blending H2 with natural gas will further reduce emissions on existing systems. Gas engines today can use 5% to 20% H2, and retrofits in the manufacturing process can bring most engines to 25%. Manufacturers are already making inroads on developing 100% hydrogen-ready engines.
Using low-carbon fuels such as hydrogen in CHP units can further reduce emissions. However, there are still several hurdles to overcome for widespread adoption and use of hydrogen—especially when it comes to production, storage and transportation.
The future of CHP appears bright
As we navigate the complexities of the energy transformation wave, CHP can provide quick solutions, is easy to incorporate and, unlike earlier large-scale projects that were designed to last 50+ years, is ideal for the short-term. It can also provide an immediate reduction in carbon—a key factor, since many other viable solutions are still years away from implementation.
Governments are starting to recognize CHP as a way to boost efficiency, especially combined with renewables. New interest and investment—driven by a combination of low natural gas prices, environmental policies and reliability concerns—are moving the CHP market forward.
There must be a continued push to tell the CHP story and highlight the projects that have experienced success. When CHP is implemented and used to its full potential, it can provide a reliable and clean source of power while increasing energy efficiency, lowering emissions and helping shape a better future for the power industry.