Cornish Lithium, the start-up hoping to lead the development of an industry for the battery metal in the UK, has secured up to £18 million ($24 million) from metals-focused investment company TechMet to help fast-track its lithium projects in the homeland.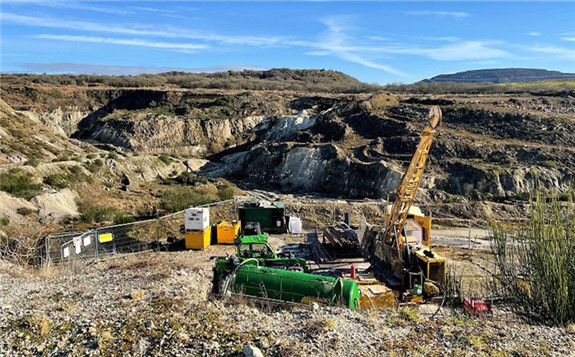 The exploration company, which is focused on the environmentally sustainable extraction of lithium from geothermal waters and hard rock in the historic mining district of Cornwall, said the funds injection was "transformational."
Cornish Lithium said the investment will allow it to accelerate the construction of a demonstration plant for lithium processing, a feasibility study for its Trelavour project, and conduct additional drilling.
This is the first institutional investment in Cornish Lithium, which has previously used crowdfunding to raise new capital.
It will occur in two phases, the miner said. The first tranche of £9 million will be invested upon receipt of shareholder approval and the second tranche of £9 million will be invested, at the option of TechMet, following the delivery of a scoping study for the Trelavour hard rock project, which is on track for completion in the second quarter of 2022.The company said that TechMet's chief technical officer Simon Gardner-Bond will join its board.
Cornish Lithium noted it expected to benefit from the technology metals investment firm's knowledge of the battery metals supply chain and commercial and strategic relationships.
Well-timed
The European Union is currently rebuilding automotive supply chains around battery metals, and incentivizing the adoption of electric vehicles (EVs).
European Commission Vice President Maros Sefcovic has said that, by 2025, large-scale battery plants currently under construction will produce cells to power at last six million EVs.
British carmakers have an additional pressure — in only three years, they will have to source local electric car batteries as set by the Brexit free trade deal inked last year.
Under the agreement, all European trade in cars and parts will continue to be free of tariffs or quotas after the Brexit transition period ended on December 31, as long as they contain enough content from either UK or EU factories.
"As the world transitions towards electric vehicles, a material lithium supply gap is looming, especially in the UK given the requirement for an estimated 75,000 tonnes of lithium carbonate equivalent by 2035, according to The Faraday Institution, Cornish Lithium intends to position itself as a key player in the necessary supply chains to bridge that gap," founder and chief executive Jeremy Wrathall said in the statement.
Cornish is simultaneously advancing its United Downs project, and announced in June the completion of the construction of the geothermal water test site and demonstration plant, which will be used to trial direct lithium extraction (DLE) process technologies.