China's first self-operated deep-water gas field exploration facility, Deep Sea No.1 built by China National Offshore Oil Corp (CNOOC) in the South China Sea, is already able to supply 10 million cubic meters a day, achieving the designed production peak ahead of time, CNOOC announced on Wednesday.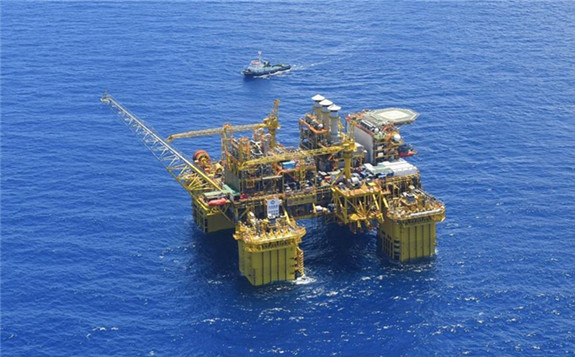 That means Deep Sea No.1 will have the capacity to provide 3 billion cubic meters of deep-water natural gas annually, signaling that China's offshore oil industry has acquired a complete technological system for providing, managing and maintaining deep-water gas fields. The gas field is expected to provide new support for natural gas supply to hot economic regions including South China's Guangdong and Hainan provinces as well as the Hong Kong Special Administrative Region (HKSAR).
The Deep Sea No.1 gas field was put into operation on June 25. Located 150 kilometers from Sanya in Hainan, it was discovered in 2014, with natural gas reserves exceeding 100 billion cubic meters. Its average exploration depth is 1,500 meters, and its deepest well is more than 4,000 meters below the sea surface.
You Xuegang, program manager for Deep Sea No.1, said that the success of Deep Sea No.1 demonstrates the reliability of China's self-designed innovative development plan and signals that China's deep-water oil-gas exploration technology has achieved world-class level.
After equipment testing and process optimization, gas from Deep Sea No.1 has been transmitted to processing stations in the HKSAR, Gaolan in South China's Guangdong Province and Nanshan in South China's Hainan Province, after which it was connected to the national natural gas network.
The CNOOC said that it will assign personnel and prepare relevant procedures to ensure stable production and supply during the winter heating season.