Holtec International has finalised an agreement with Hyundai Engineering & Construction of South Korea for the turnkey supply of Holtec's SMR-160 small modular reactor (SMR) plant worldwide. Holtec is considering deploying the first SMR-160 at Oyster Creek in New Jersey, where it is currently in the process of decommissioning a former boiling water reactor.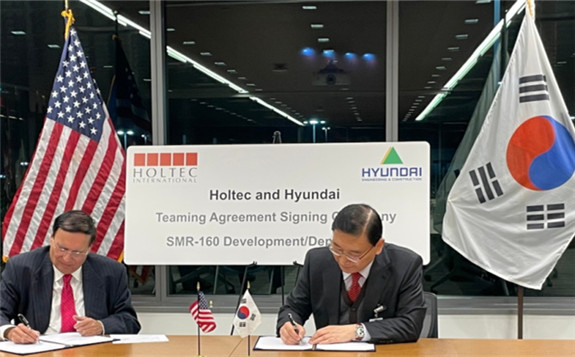 Hyundai Engineering & Construction will perform the detailed design of the balance of plant and prepare the full plant construction specification for the SMR-160, which Holtec has been developing since 2010, US-based Holtec said on 22 November. The partnership also provides for project delivery rights for Hyundai, subject to certain provisions. "This agreement is global in scope with provisions to comply with the preference of the customer, effect the most competitive project cost, and in accord with Holtec's existing commitment with Kiewit for the North American market," the company said.
Holtec will serve as the overall architect engineer for the plant and provide the major nuclear components through its US manufacturing facilities and international supply chain, and will provide the instrumentation and control systems through its partnership with Mitsubishi Electric Corporation. Framatome is the selected fuel vendor for SMR-160.
The cooperation with Hyundai combines Holtec's expertise in design, engineering, manufacturing, and project delivery of nuclear components with Hyundai's EPC and construction management capabilities for major projects, Holtec said. The framework of the agreement and worldwide collaboration will support standardisation of the SMR-160 design, it added.
"The partnership with Hyundai Engineering & Construction enhances our ability to deliver SMR-160 projects on schedule and at a competitive price," Holtec Senior Vice President of International Projects Rick Springman said.
The SMR-160 is a pressurised light-water reactor, generating 160 MWe (525 MWt) using low-enriched uranium fuel, with flexibility to produce process heat for industrial applications and hydrogen production. The design has completed the first phase of the Canadian Nuclear Safety Commission's three-phase pre-licensing vendor design review, and is undergoing pre-licensing activities with the US Nuclear Regulatory Commission.
Holtec said it aims to secure a US construction licence in 2025, and is "actively exploring the possibility" of deploying an SMR-160 at Oyster Creek - which it acquired from Exelon in 2019 following the plant's closure the previous year - and at two other sites in the southern USA.