A major Chinese-French wind power project has been completed ahead of schedule and was fully connected to the power grid in Dongtai, East China's Jiangsu Province on Saturday, marking a significant step in renewable energy cooperation between Chinese and foreign companies.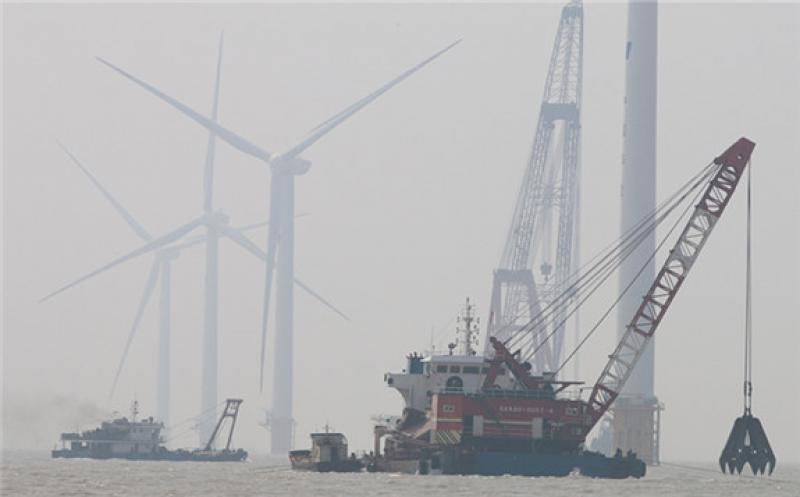 The joint venture plant, built and operated by China Energy Investment Corp (CHN Energy) and French multinational utility company EDF Group, has realized full power generation with a total installed capacity of 500,000 kilowatts.
The annual power generation is expected to reach 1.39 billion kilowatt hours, which can meet the annual power demand of 2 million residents. It's equivalent to cutting the emissions generated by using 441,900 tons of standard coal - 937,500 tons of carbon dioxide and 1,704 tons of sulfur dioxide.
According to CHN Energy, total investment in the joint project is about 8 billion yuan ($1.25 billion) with foreign direct investment exceeding $160 million, the largest amount by EDF in China's non-nuclear power generation market.
The project is also among the first batch of full-capacity, grid-connected offshore wind power projects in China.
The project has two phases. The first phase, with a capacity of 300,000 kilowatts, was connected to the grid at the end of 2019. The second phase, with a capacity of 200,000 kilowatts, was constructed in June this year.
Located 37 kilometers offshore, the project was one of the most challenging wind power projects in China in terms of construction, according to media reports.
By optimizing the construction design and refining the construction process, the construction team managed to complete work three months ahead of schedule, reports said.