Growing demand makes minimizing coal consumption more difficult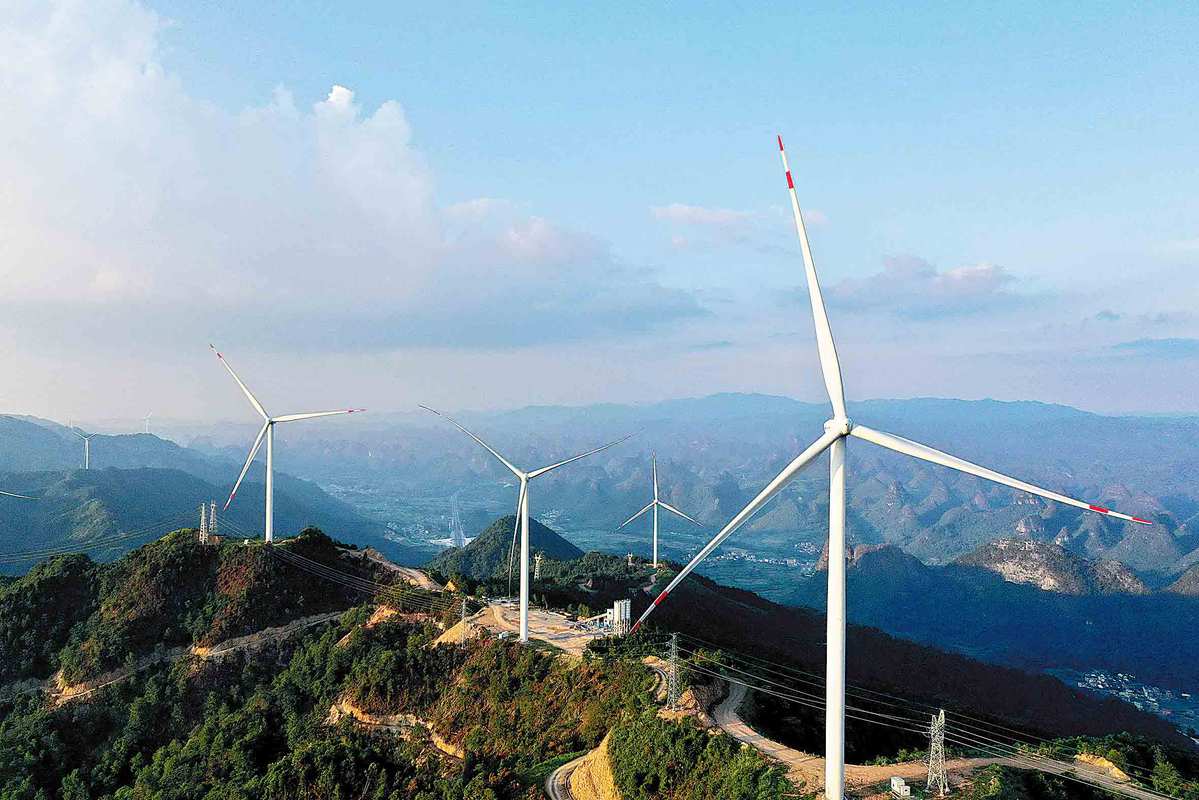 Unlike major developed nations, China, the world's largest emerging market, is expected to see continuous growth in energy demand as it strives to go carbon neutral before 2060.
Even though new energy development has been robust, there is still plenty of room for further growth, making it essential for the country to promote energy conservation as it speeds up such development, experts said.
Only in that way can China minimize its coal consumption while meeting the growing demand for energy and see its carbon dioxide emissions peak as soon as possible, they said.
They made the remarks following the State Council Information Office's recent publication of a document detailing the country's low-carbon transition achievements.
Unveiled on Oct 27 and titled "Responding to Climate Change: China's Policies and Actions", the white paper noted a rapid reduction in the country's energy consumption per unit of GDP.
"Preliminary calculations show that the reduction from 2011 to 2020 reached 28.7 percent, one of the fastest in the world," it said.
From 2016 to 2020, China fueled average annual economic growth of 5.7 percent with average annual energy consumption growth of 2.8 percent, it said.
"The amount of energy it saved accounted for about half the global energy savings in the same period," the white paper said.
China has been ranked among the leading countries in the efficiency of its coal-fired power generation units, it said. Compared with 2010, carbon dioxide emissions in the country's coal-fired power generation sector last year were down by 370 million metric tons.
Sixteen mandatory energy consumption quota standards were issued in the country between 2016 and 2020, helping it achieve annual energy savings of 77 million tons of standard coal, equivalent to 148 million tons of carbon dioxide emissions.
Teng Fei, deputy director of Tsinghua University's Institute of Energy, Environment and Economy, said work to enhance energy efficiency will play an important role as China forges ahead to meet its climate targets.
He said the country needs a comparatively stable low-carbon transition to not only honor its commitments, but to also ensure energy security and guarantee power supply.
China plans to rigidly control the growth of coal consumption from 2021 to 2025 and gradually reduce consumption in the following five years. The design of the plans is in line with a stable transition, Teng said.
The development of renewable energy in the country is not yet robust enough to address its still growing energy demand, he added, making it necessary to consume coal or other fossil fuels to fill the gap.
Teng said enhanced efficiency in coal consumption and energy conservation could help minimize the gap and make carbon dioxide emissions peak earlier.
Following consistent efforts, China has seen its coal consumption efficiency almost reach the highest level in the world.
"But it will be increasingly difficult for the country to reduce coal consumption by further improving the efficiency," he said.
Teng said, however, that there is still potential to enhance energy efficiency in some other sectors.
China still has the potential to increase the energy efficiency of home appliances by 30 percent. Another feasible option to further reduce electricity consumption is to optimize its industrial structures by reducing the size of its heavy and chemical industries, he said.
Pan Jiahua, director of the Institute for Urban and Environmental Studies at the Chinese Academy of Social Sciences, said that with the proportion of coal in its total energy consumption mix more than twice the world's average, China is confronted with a much more complicated situation in phasing out coal consumption than developed nations.
In some countries in the European Union, the proportion is insignificant or even close to zero.
"Relatively speaking, it's much easier for them to phase out coal," he said.
Pan said that against the backdrop of its special situation, China has resorted to a multipronged approach in the management of coal consumption, with enhancing energy efficiency a key part of it.
He said China has been weeding out smaller coal-fired power plants so that high-efficiency ones can play a full role in meeting demand for socioeconomic development.
Pan also stressed the importance of avoiding a one-size-fits-all approach as the country strives to control total coal consumption and phase out coal-fired power plants, the other two components in the multipronged approach.
The phasing out of coal-fired power plants cannot happen overnight and should be rolled out in an orderly manner, he said. Priority should be given to phasing out outdated capacity and excess capacity in some regions, while more leeway should be given to plants with high levels of efficiency.
"The country aims to realize carbon neutrality before 2060," Pan said. "We must not act with undue haste or be overanxious for quick results."