A contract has been signed to complete the main concrete works of Argentina's CAREM-25 small reactor. Henisa Sudamericana will employ up to 250 workers in the work, which is central to the project, according to a government announcement.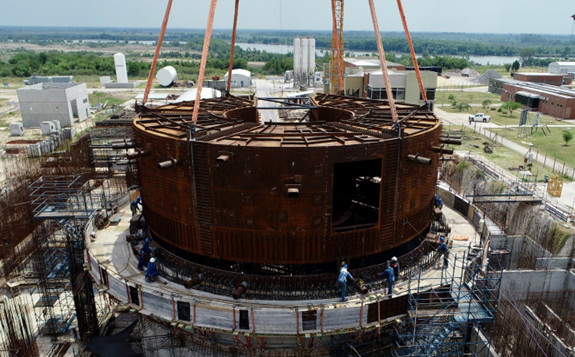 Juan Cattáneo, manager of CAREM Works Management, which is part of Nucleoeléctrica Argentina SA, said: "What was signed is extremely important to us. It guarantees that in the course of the coming weeks a significant number of personnel will be incorporated that will allow us to resume the pace that the work needs."
The 20-month contract is focused on construction of "all the concrete structures of the CAREM-25 reactor building" and between 230 and 250 workers will be involved, according to an announcement by the government of Argentina.
Henisa's role is central to the plan to complete CAREM that was agreed by Nucleoeléctrica and the country's National Atomic Energy Commission in July.
First concrete was poured for the reactor in February 2014, marking the official start of its construction. However, the project was suspended on several occasions for breach of the construction contract by the national government, during the administration of Mauricio Macri. In November 2019, work was halted by contractor Techint Engineering & Construction due to late payments from the government, design changes and late delivery of technical documentation. In April 2020, it was announced that construction was to resume.
The CAREM name is taken from Central ARgentina de Elementos Modulares. The 32 MWe prototype is Argentina's first domestically-designed and developed nuclear power unit. At least 70% of the components and related services for CAREM-25 are to be sourced from Argentine companies. The commercial model ultimately envisaged by CNEA as the basis of a muti-reactor plant would have a higher power of between 100 and 120 MWe.