As the climate crisis threatens to provoke an energy crisis, the world should approach decarbonisation carefully to prevent artificial acceleration of 'greening' the international agenda at the expense of true sustainability, the Secretary General of the Gas Exporting Countries Forum (GECF) has said.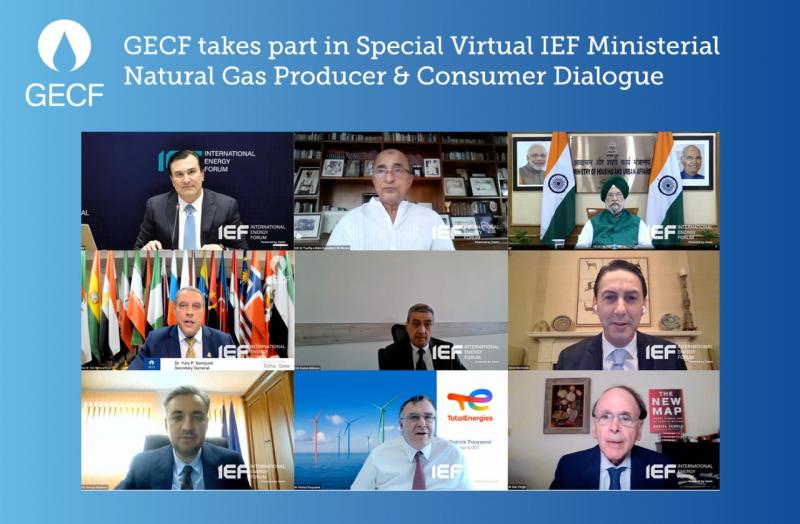 Other speakers who joined the specially convened Gas Market Dialogue organised by the International Energy Forum (IEF) on Thursday 28 October, included HE Dr Tawfiq e-Elahi Chowdhury Bir Bikram, Adviser (Minister) to the Prime Minister for Power, Energy and Mineral Resources Affairs of Bangladesh, HE Shri Hardeep Singh Puri, Minister of Petroleum and Natural Gas & Housing and Urban Affairs of India, HE George Miculescu, State Secretary, Ministry of Energy of Romania, HE Kamal Abbasov, Deputy Minister of Energy of Azerbaijan, Hon. Amos Hochstein, Senior Advisor for Global Energy Security at the Department of State, U.S., Mr Patrick Pouyanné, Chairman and CEO of TotalEnergies, Mr Charif Souki, Executive Chairman of Board, Tellurian Inc. and the Pulitzer Prize-winning speaker Mr Dan Yergin, Vice Chairman of IHS Markit.
Welcoming the participants HE Joseph McMonigle, Secretary General of the IEF, said: "We need to keep making progress on climate action while at the same time ensure we have the energy supplies today to power development and growth. The world urgently needs more investment and energy supplies, new technologies to mitigate carbon emissions, and adaptation support to vulnerable countries."
The speaker cautioned that the current energy market situation also affects the still uneven and fragile global economic recovery. Sustained high prices and volatility may reset inflation expectations and will hit energy import dependent economies and low income groups the hardest.
Addressing the gathering, HE Yury Sentyurin underscored that natural gas offers a balanced solution that the world seeks to achieve UN Sustainable Development Goals (SDGs).
"The current narrative of historically high prices and low inventory levels challenges the universal energy security and necessitates the need to assess the causes of this crisis, its potential implications, as well as outlook for future development of energy markets.
"A multi-dimensional approach should be the way forward to deal with the climate challenge in which the oil and gas industries form the bedrock of the solution," he added.
Taking place on the eve of the G20 Heads of State and Government Summit and days before COP26, the gathering came amidst record rise in global natural gas and power prices along with low inventory levels for the upcoming winter season in the northern hemisphere.
"Our monitoring shows that the current situation is negatively developing in the activities of enterprises that operate in energy industries at the global scale. We have already seen the disruption that has been caused in reliable supply of gas due to lack of investments."
The Secretary General of the 18-nation coalition reminded the audience, which was comprised of energy ministers of both producing and consuming countries, that the GECF has been highlighting the fundamental role of long-term gas contracts and the gas pricing based on oil-oil indexation to ensure stable investments in the development of natural gas resources.
"Such a principle, we believe, provides a solid basis for buyers to gain long-term visibility of their cash flows and protect their supplies against price volatility."
The lack of investment was criticised by an important voice of the consuming countries, India, whose energy minister warned that high energy prices will undermine any global economic recovery.
"The global LNG demand is expected to reach 700 mt by 2040 as demand for natural gas continues to grow strongly in Asia and gains further traction in powering hard to electrify sectors. As a result, more supply investment will be needed to avoid the estimated supply-demand gap. Apart from Covid-19 related project delays, the global energy sector's pivot away from fossil fuels towards greener energy supplies have slowed investment in LNG infrastructure," HE Puri said.
"Natural gas, despite being a cleaner fuel with significant potential, is yet to achieve its rightful place in global energy markets. People must have access to clean, affordable, sustainable, and equitable supply of energy. Energy justice is a priority to which our government is committed."
India's current gas uptake is 6% of its primary energy mix against the global average of 24% and the country seeks to increase it to 15% by 2030.