The leaders of the G20, who met in Rome on 30-31 October, said they are committed to tackling the "critical and urgent threat" of climate change and to work collectively to achieve a successful COP26 climate change conference, which is now under way in Glasgow. They reaffirmed their commitment to the Paris Agreement on climate change and vowed to cooperate to reach net-zero emissions by around 2050.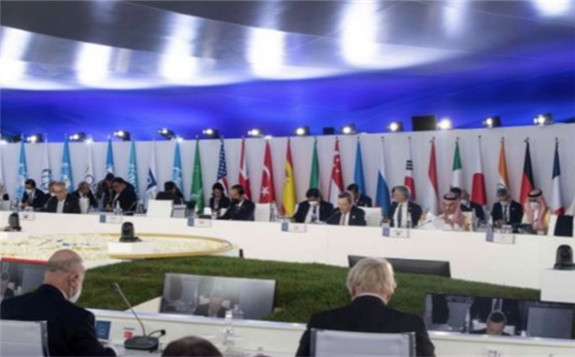 In a joint declaration issued at the end of their meeting, the leaders said: "We reaffirm our commitment to the full and effective implementation of the United Nations Framework Convention on Climate Change and of the Paris Agreement, taking action across mitigation, adaptation and finance during this critical decade, on the basis of the best available scientific knowledge, reflecting the principle of common but differentiated responsibilities and respective capabilities, in light of different national circumstances. We remain committed to the Paris Agreement goal to hold the global average temperature increase well below 2°C and to pursue efforts to limit it to 1.5°C above pre-industrial levels, also as a means to enable the achievement of the 2030 Agenda."
The G20 leaders said they recognise that the impacts of climate change at 1.5°C are much lower than at 2°C, and that keeping 1.5°C within reach will require "meaningful and effective actions and commitment by all countries." However, they note this will involve taking into account "different approaches, through the development of clear national pathways that align long-term ambition with short- and medium-term goals, and with international cooperation and support, including finance and technology, sustainable and responsible consumption and production as critical enablers, in the context of sustainable development."
They added: "In this endeavour, informed by the Intergovernmental Panel on Climate Change assessments, we will accelerate our actions across mitigation, adaptation and finance, acknowledging the key relevance of achieving global net-zero greenhouse gas emissions or carbon neutrality by or around mid-century and the need to strengthen global efforts required to reach the goals of the Paris Agreement.
"Accordingly, recognising that G20 members can significantly contribute to the reduction of global greenhouse gas emissions, we commit, in line with the latest scientific developments and with national circumstances, to take further action this decade and to formulate, implement, update and enhance, where necessary, our 2030 Nationally Determined Contributions (NDCs), and to formulate long-term strategies that set out clear and predictable pathways consistent with the achievement of a balance between anthropogenic emissions and removal by sinks by or around mid-century, taking into account different approaches, including the circular carbon economy, socioeconomic, economic, technological, and market developments, and promoting the most efficient solutions."
In order to deploy the full potential of "zero-, low-emission, innovative, modern and clean solutions", the leaders said they will collaborate to accelerate the development and deployment of "the most efficient and effective solutions and help them rapidly achieve cost parity and commercial viability, including to ensure access to clean energy for all, especially in developing countries."
They committed to significantly reduce their collective greenhouse gas emissions, taking into account national circumstances and respecting their NDCs. "We will cooperate on deployment and dissemination of zero- or low-carbon emission and renewable technologies, including sustainable bioenergy, to enable a transition towards low-emission power systems."
The leaders added they will increase their efforts to implement the commitment made in 2009 in Pittsburgh to phase out and rationalise inefficient fossil fuel subsidies that "encourage wasteful consumption". They added, "We will put an end to the provision of international public finance for new unabated coal power generation abroad by the end of 2021."
"We ask the different G20 work streams to act in synergy, within their respective mandates and while avoiding duplication, to inform our discussions on the most appropriate policy mix to move towards low-greenhouse gas emission economies, taking into account national circumstances," the declaration said. "Such policy mix should include investment in sustainable infrastructure and innovative technologies that promote decarbonisation and circular economy, and a wide range of fiscal, market and regulatory mechanisms to support clean energy transitions, including, if appropriate, the use of carbon pricing mechanisms and incentives, while providing targeted support for the poorest and the most vulnerable."
The leaders said: "We look forward to a successful COP26."