Carbon emission reductions and carbon neutrality are among the hottest topics in the world. A total of five sub-forums at the 2021 Zhongguancun (ZGC) Forum, held from Friday to Tuesday, are specifically focusing on low-carbon, green and sustainable development, out of nearly 40 sub-forums.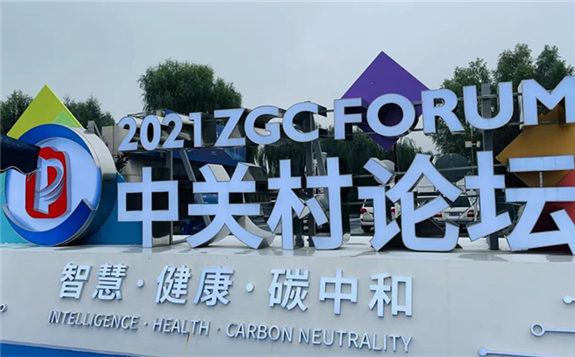 The just-ended UN High-level Dialogue on Energy also attached great importance to carbon reductions, as it was the first gathering of leaders in more than 40 years at the UN solely devoted to energy issues, according to the UN.
Zhang Jianhua, head of China's National Energy Administration, on Friday during the UN dialogue, called for greater global collaboration in energy technology innovation, breaking down geographical barriers, bridging technological gaps, and making energy technology more open, inclusive and balanced, to ensure that the latest advances in energy technology reach all countries.
Investors, scholars and analysts said at the ZGC Forum that on the way to achieving China's "dual carbon" goals, the energy structure - with a high proportion of clean energy - will bring great challenges to the stability of the power system.
In addition, the upgrading of equipment and technology requires huge capital investment.
"According to discussions with our venture capital partners, the 'dual carbon' goals bring huge investment opportunities. Capitals will flow in infrastructure in China by 2050, mainly in energy storage, hydrogen, low-carbon electricity, digitalization and energy conservation such as electric vehicles," Jiang Xingquan, managing director of China Capital Investment Group, said on Saturday at the ZGC Forum.
An analyst from the metallurgy industry revealed that dozens of Chinese steel enterprises drawing up road maps of carbon peaking and carbon reduction.
Zhang Yongmiao, deputy general manager of corporate banking at Huaxia Bank, said at the ZGC Forum that there will be about 1,000 gigawatts of clean-energy capacity waiting to be installed in China before 2030, which means huge demand for capital.
Cheng Daming, managing director of investment banking at China International Capital Corp, noted that at present, green bond issues total nearly 1 trillion yuan ($154.7 billion) in China.
"Due to the rapid development of the green bond market after China announced its 'dual carbon' targets, we believe that new green bond issues will reach 6 billion yuan this year," Cheng said at the ZGC Forum on Saturday.
"On the path of carbon neutrality, China's energy structure - with a high proportion of clean energy - brings great challenges to the stability of the power system.
Energy storage technology upgrading is crucial," said Jin ZhiJun, academician of the Chinese Academy of Sciences and dean of the Institute of Energy at Peking University, on Saturday at the ZGC Forum.