NuScale has signed a second agreement to consider its small reactors as a general replacement for coal units in Poland. The US small reactor vendor will support two energy firms, Poland-based Unimot and USA-based Getka, in their joint work to explore the possibility.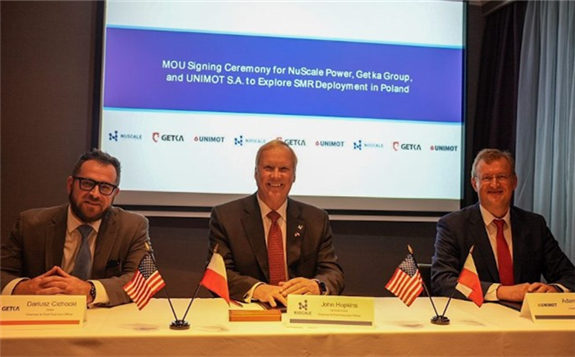 Poland uses coal as fuel for over 70% of its electricity, as well as half of its heat supply to district heating networks and industry, but is still to announce a definitive policy to fully transition away from this fossil fuel. In recent months Polish industry has taken the matter into its own hands, showing increasing interest in nuclear power.
The latest Polish energy player to consider small reactors is Unimot, which imports liquid and gas fuels as well as electricity for sale on Polish retail and wholesale markets. Unimot already works with a USA-based company called Getka, and yesterday the two signed an agreement with NuScale to explore whether its 77 MWe NuScale Power Module could be deployed "as a coal repurposing solution for existing coal-fired power plants in Poland."
"We are pleased that this is another area to develop low-emission projects in Poland, where we can be as involved as the Unimot Group in decarbonisation," said Adam Sikorski, president of the management board of Unimot.
"Our role will be promoting SMR technology as a reliable alternative for coal technologies, and acquiring business partners in the Polish market, said Sikorski. "Ultimately, we also intend to create a platform of collaboration with Polish academic centres and potential Polish component suppliers to develop this technology in our country. Because of this, we can actively support the energy transformation of Poland, simultaneously diversifying our group's business," he said.
Dariusz Cichocki, chairman and CEO of Getka Group said, "This project aligns with our commitment to decarbonise and diversify Poland's energy infrastructure."
Latest in a trend
The agreement was announced yesterday after a similar deal between NuScale and Polish copper and silver producer KGHM, which will analyse technical, economic, legal, regulatory, financial and organisational factors in using NuScale plants as replacement for coal units.
Marcin Chludziński, president of KGHM's management board, said climate change is forcing "decisive actions", with the impact already being felt financially through increases in energy prices. "The construction of small nuclear reactors by 2030 is a solid declaration and an element of our energy transformation. We are pioneers in Poland, as we expect that the first of our nuclear power plants will come online in 2029," he said.
Another collaboration is underway regarding GE-Hitachi's BWRX-300 reactor design as a potential replacement for larger coal units and to power industrial sites. Synthos Green Energy, a subsidiary of the Polish chemical group Synthos, is GE-Hitachi's partner and is looking to support the deployment of nuclear units at power plants and energy intensive chemical plants.