Nuclear fusion developer Tokamak Energy said it has demonstrated a "transformative magnet protection technology" that improves the commercial viability of fusion power plants.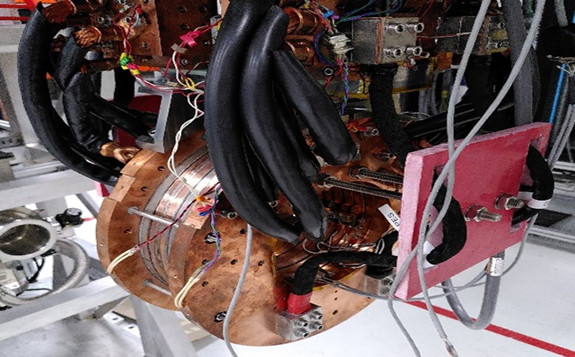 Results from the latest tests validate a revolutionary approach to scaling up high temperature superconducting (HTS) magnets, which are highly resilient to plasma disruptions, Tokamak Energy said. The technology, known as "partial insulation", allows the magnets to be built and operated at power plant size and provides a simpler alternative to traditional superconducting magnet protection systems. It therefore enhances and accelerates the commercial viability of fusion power.
"For the first time, this latest test gives fusion developers an option for a new design of superconducting magnet that will be resistant to damage, reducing the cost and complexity of damage mitigation systems and the threat of downtime," commented Chris Kelsall, CEO of Tokamak Energy. "The world needs energy that is clean, secure, cheap and globally deployable, and the magnets Tokamak Energy is developing will enable this future. Tokamak Energy's two world leading core technologies – the spherical tokamak and HTS magnets – are central to the company's mission to develop economic fusion in compact power plants," he added.
Tokamaks use magnets to contain and isolate a plasma so that it can reach the high temperatures at which fusion occurs. High magnetic fields are necessary for tokamaks to contain the superheated fuel, and higher magnetic fields enable a smaller tokamak. High temperature superconductors can create these much stronger magnetic fields and so are important for commercial fusion power.
Tokamak Energy said a team is currently manufacturing a new test facility and demonstration system with a full set of magnets the interaction of all the HTS magnets and to validate their use within a full tokamak system for the first time. The new magnet system is scheduled for testing in 2022, according to a statement.
The full results of the magnet test campaign have been presented by Senior HTS Magnet Engineer, Bas van Nugteren, at this year's European Conference on Applied Superconductivity (EUCAS 2021). The benefits of partial insulation for a fusion scale tokamak also feature in a recently published peer reviewed roadmap for fusion magnet technology in the Superconductor Science and Technology journal.