Westinghouse Electric Company and Ukrainian company NT-Engineering LLC have signed a Memorandum of Cooperation (MoC) to implement maintenance optimisation and system repair projects for VVER reactors. They said the work will increase the safety levels and performance of Ukrainian VVERs, improving annual power output and reducing operational costs.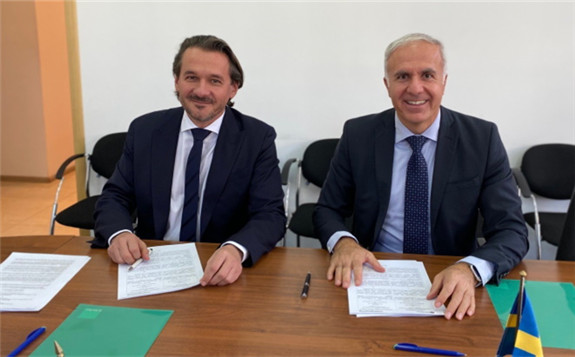 The agreement will allow operators to optimise their approach to maintenance in VVER units and significantly increase annual power output through risk-informed configuration management, the companies said. It will also allow operators to increase the time reactors are kept online between planned outages by 16-20 days by identifying maintenance that can be safely performed during reactor operation instead of waiting for the reactor to be shut down for refuelling.
NT-Engineering completed a pilot project earlier this year at Zaporozhe unit 2, a VVER-1000 unit that entered commercial operation in 1986, with support from the US Department of Energy and Argonne National Laboratory. Applying the process to all of Ukraine's VVER-1000s could increase the overall power output of the country's nuclear fleet by 1000 MWe - equivalent to one new VVER-1000 plant. The pilot study has shown the process could be replicated at other VVER-1000 reactors globally, the companies said.
"Implementation of cooperation between NT-Engineering and Westinghouse will improve the efficiency of nuclear power units using modern technologies and will lead to significant economic benefits for the operator of nuclear installations," said Vitalii Demianiuk, chairman of NT-Engineering.
"Westinghouse is committed to continue supporting NT-Engineering in every area of its operations and, through this agreement, optimising the full Ukrainian VVER fleet as well as VVER units outside of Ukraine," said Tarik Choho, Westinghouse president, EMEA Operating Plant Services.
Ukraine and the USA earlier this month agreed to "deepen and intensify" their strategic cooperation in energy, with Ukrainian nuclear power plant operator Energoatom signing an MoC with Westinghouse. Those two companies envisage jointly completing a fourth reactor at the Khmelnitsky nuclear power plant using AP1000 pressurised water technology as well as four new AP1000 units being built at existing Ukrainian nuclear power plant sites.