The Gas Exporting Countries Forum (GECF), the global platform of the leading gas producing countries, on Monday joined OPEC, non-OPEC, and a plethora of other international energy organisations to present a unified front on the advancement of natural gas as part of a balanced energy solution to achieve sustainable development goals.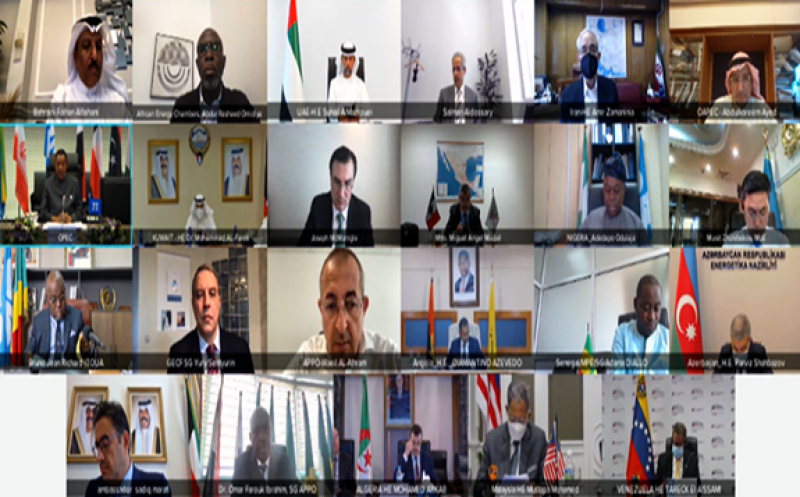 The OPEC-hosted Ministerial Roundtable on Energy, Climate and Sustainable Development, where more than a dozen ministers were flanked by intergovernmental organisations such as GECF, APPO, AEC, AFREC, ARDA, IEF, and OAPEC, termed the gathering as coming at a "profound time in the momentum of the global climate effort".
Addressing more than 100 delegates, HE Yury Sentyurin, Secretary General of the GECF, said that the 18-member consortium is fully committed to develop actions towards clean energy transitions in a balanced manner.
"As the largest energy organisations in the world, the onus is on us to address climate change in a balanced manner – an approach that enables us to deal with the climate threats whilst at the same time considers the immense requirement of nations to ensure their economic development and social progress," said HE Sentyurin.
"The gas industry is embracing technology options that can further promote decarbonisation potential of natural gas, including carbon capture, utilisation and sequestration options and production of blue hydrogen and ammonia."
He highlighted the steps taken by the GECF in recent years to support its Member Countries in the area of climate change, such as the GECF Environmental Knowledge and Solutions framework and the establishment of the GECF Gas Research Institute.
According to him, the decarbonisation efforts of the GECF Member Countries are already underway, mainly through critical projects implemented by national oil and gas companies, for example, projects to capture and store CO2 in Qatar, Algeria and Norway.
In addition, two GECF Members Qatar and Nigeria, have recently updated their NDCs to enhance their commitments to reduce emissions, whilst countries such as Russia, Trinidad and Tobago, and the UAE have launched initiatives to foster hydrogen development. Russia, in particular, has announced a strategy to obtain an export capacity of as much as 2 million tonnes of hydrogen by 2035.
During the meeting, the GECF proposed a series of recommendations in order that the hydrocarbon industry can speak on international climate forums in unison:
• A multi-dimension approach should be the way forward to deal with the climate challenge in which the oil and gas industries form the bedrock of the solution
• Carbon border taxes will impact oil and gas exporters and industrial consumers. A cooperative framework would be ideal rather than the antagonising approach
• Climate solution pathways should be balanced along the multiple vectors impacted by energy, such as economics and social vectors
• Decarbonisation technologies should include oil and gas decarbonisation technologies.
"We shouldn't write off hydrocarbons due to their abundance, affordability and impressive contribution to improving energy access and economic conditions. According to the latest projections by GECF Global Gas Outlook 2050, natural gas and oil will provide more than 50% of global energy demand by 2050.
"Thus, they will continue to be responsible for inclusive economic growth and sustainable development for decades to come. Specifically, natural gas is one of the global enablers for reducing emissions uninterruptedly and steadfastly by replacing carbon-intensive fuels and backing up intermittent renewables," concluded HE Sentyurin.
Several ministers and senior officials from GECF Member Countries also spoke at the event, including HE Mohamed Arkab, Minister of Energy and Mines, Algeria and Chairman of the Council of Minister of APPO, HE Tareck El Aissami, People's Minister of Petroleum, Venezuela, HE Dr Amir Hossein Zamaninia, EB Member, Iran, HE Dr Diamantino Pedro Azevedo, Minister of Mineral Resources and Petroleum, Angola and President of the OPEC Conference, HE Suhail bin Mohammed Faraj Faris Al Mozrouei, Minister of Energy and Infrastructure, UAE, and HE Parviz Shahbazov, Minister of Energy, Azerbaijan.