China National Offshore Oil Corp, one of the country's three major oil and gas companies, unveiled a tender on Monday inviting foreign companies to bid for 19 blocks to further tap the potential of China's offshore oil and gas development with mutually beneficial cooperation.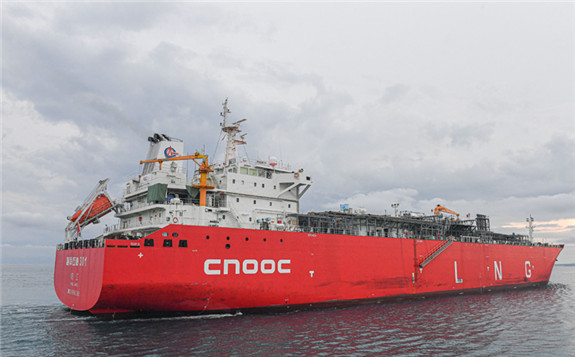 Covering a total area of 26,600 square meters, the 19 blocks, which cover Bohai Bay in North China's Bohai Sea, as well as Yinggehai Basin, Qiongdongnan Basin and Zhujiangkou Basin in the South China Sea, are available for cooperation between CNOOC and foreign companies, it said.
Proven reserves of natural gas in the Yinggehai Basin, the Qiongdongnan Basin and the Zhujiangkou Basin in the South China Sea are expected to reach a combined total of 1 trillion cubic meters by 2025, the company said. Closing time for tenders will be Dec 31, it said.
CNOOC will continue to open up to the outside world, and explore flexible and diversified business cooperation patterns to achieve a high-quality development and win-win results, said Wang Dongjin, chairman of the Chinese State-owned energy giant.
As the largest importer of oil and gas across the world, China is attractive to foreign firms that will compete for the offer, experts said.
The country's oil and gas development has been marching toward high-quality development and the sector is more than ever open to the world, said Luo Zuoxian, head of intelligence and research at the Sinopec Economics and Development Research Institute.
"In addition to the onshore oil and gas market reform, offshore oil and gas exploitation has also been accelerating in recent years, which will further ensure national energy security while helping facilitate the dual-circulation development paradigm and cultivate new competitive advantages in the coming years," Luo said.
"As China's technology in fields of deepwater oil and gas exploration and exploitation has advanced in recent years, CNOOC will go deeper and further in the sphere in the future."
The offshore oil industry, which usually requires high investment and features high technology and high risk, is one of the industries attracting the most foreign investment in the country.
CNOOC has been stepping up cooperation with international oil companies in recent years including Hague-based Royal Dutch Shell, California-based Chevron, Houston-based ConocoPhillips, France's Total, Norway's Equinor, Kuwait Foreign Petroleum Exploration, Calgary-based Husky Energy, Sydney-headquartered Roc Oil and South Korea's SK Innovation to seek oil and gas in offshore China.
During the first half of this year, the Lufeng12-3 oilfield project that is jointly developed by CNOOC and South Korea's SK Innovation has started construction, while CNOOC Gas& Power Group, a subsidiary of CNOOC that focuses on natural gas and power generation, has also inked a long-term purchase agreement with companies including Malaysia's state oil firm Petronas.
CNOOC had inked 228 contracts with 81 oil companies from 21 countries and regions by July, it said.